Marks & Spencer 'Love Sausage' for Valentine's Day is met with hilarity online
7 February 2019, 15:35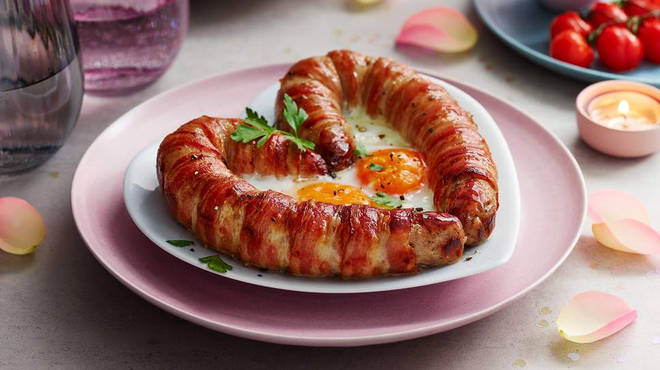 Behold the Love Sausage from M&S. Yes, it's quite a... thing to behold.
Marks and Spencer announced their brand new product on social media today, and it wasn't long before it had a... mixed reception.
The Love Sausage is a heart-shaped pork sausage wrapped in streaky bacon. People on social media have, of course, reacted by pointing out the clear sexual innuendos of the product.
"Someone in marketing must be very pleased with themselves for managing to sneak this past their boss," one person tweeted.
Are you ready for our Love Sausage? Heart-shaped, lightly-truffled, wrapped in bacon and in store tomorrow. Say it with sausages – tag who you'll be sharing your Love Sausage with this Valentine's Day! #MyMarksFave pic.twitter.com/VPQi4ENnsn

— M&S (@marksandspencer) February 7, 2019
The Love Sausage costs £5 and will be available to buy in stores from February 8, and has been described as being the "ultimate meaty delight for Valentine's breakfast in bed". Ahem.
"We're encouraging customers to start the fun of Valentine's Day celebrations early with a 'Love Sausage' for breakfast," says Sarah Loxton, product developer at Marks & Spencer.
"The recipe includes a hint of delicious truffle to make it extra special and my top tip is to crack two eggs into the centre of the heart, eight minutes before serving for the breakfast of dreams."
Hi, I just asked a colleague at work if they wanted a bite of this product and everything has escalted so quickly I have an HR disciplinary at 2. Any chance you can get me some representation because of this innuendo filled product?

— Matt Sandry (@MattSaysThings) February 7, 2019
While some people have said that they will definitely be purchasing the 'Love Sausage' for their significant other on Valentine's Day, others have said they want nothing to do with it.
"Gotta say I really don't want that thing anywhere near me," one person wrote. "It looks like the obvious and then somebody went at it with a cleaver. #dontsayitwithsausages."
"Love is dead. Long live Satan," another person joked.