Quality Street, Roses and Celebrations boxes are getting much smaller but cost the same
11 December 2018, 13:45
Boxes full of chocolatey treats might mean we put on a few pounds of Christmas, but it seems the boxes themselves keep losing weight.
Quality Street tubs have now dropped from 750 grams to 720 grams, while a tub of Celebrations has dipped from 680 grams to 650 grams.
While the quantity of chocolates inside Quality Street boxes keep getting smaller, the price stays the same at £5 each.
Over the last 10 years, Quality Street and Roses boxes have shrunk by a huge 40%, while Celebrations have shrunk by 33%.
Nestlé, who make Quality Street tubs, said in a statement: "This year's tub of Quality Street is 720g, which is slightly lighter than in 2017. Nevertheless our tub is very competitive when compared to similar products on the market."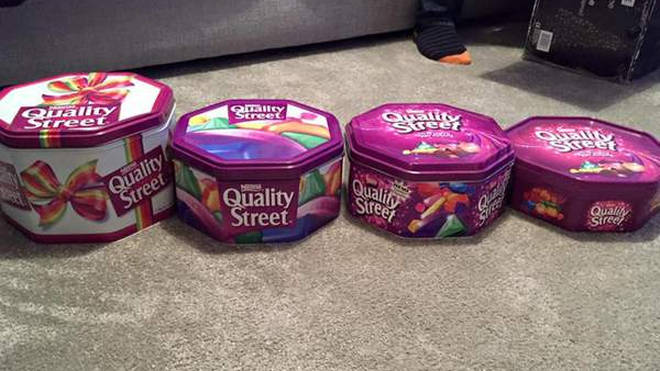 Mars, the manufacturer of Celebrations, said: "We have had to make the difficult decision to reduce the weight of our Celebrations tub so [it] continues to be an affordable festive treat."
Finally, Cadbury said: "Like all food manufacturers we sometimes have to make changes to ensure that people can continue to buy their favourite chocolate brands at affordable prices."
Three years ago, Charlotte Hook posted a photo to Quality Street's Facebook page, comparing the tubs from the good old days of the 1980s to now, and you can see the clear difference.
Hook wrote at the time: "Been putting the Christmas tree up, always keep my tins to put my decorations in after Christmas! Look how they've changed in size from 1998 till 2014! Bring back the big tins!!!"
Having said all that, it's not exactly a bad thing for our waistline come January.