Waitrose goes packaging-free, as supermarket encourage shoppers to bring own containers
4 June 2019, 14:33
Waitrose have begun an environmentally aware initiative to minimise plastic and packaging in one of their supermarkets, with the hope of releasing it nationally.
One supermarket in Oxford begins a trial this week, where shoppers can bring their own reusable containers to package their groceries, including pasta, cereal, frozen fruit and wine.
The new approach to shopping comes from Waitrose's attempt to minimise their environmental impact. Shoppers are encouraged to bring their own reusable containers, tubs, jars and bottles, and the shop offers an option to 'borrow a box' to take their shopping home for a £5 deposit, which is refunded when the box is returned.
Waitrose is one of the UK's supermarkets which have signed up to the UK Plastic Pact, and as a part of this initiative the food chain will offer a choice of 160 fruit and vegetables, and almost 30 other products to be bought in the new waste-free shopping approach.
In addition to minimising plastic waste, the products on offer are on average 15 per cent cheaper than their packaged counterpart, so economic shoppers will also be saving money.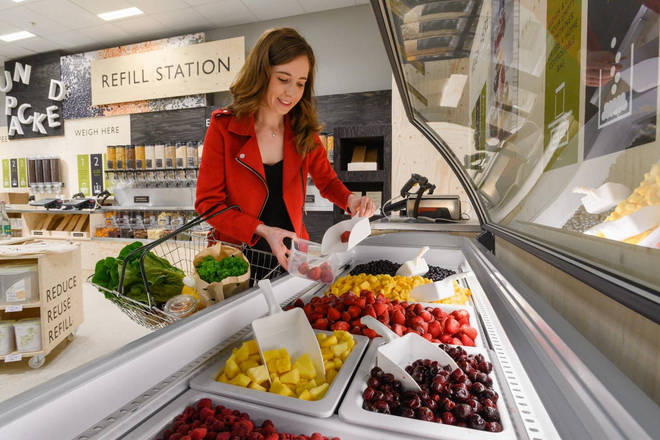 The scheme includes a reusable packaging or packaging-free option for fruit, vegetables, cupboard essentials, coffee, wines, beers, washing up liquid, frozen fruit and flowers.
Tor Harris, from Waitrose & Partners, said: "We are determined to build on the work we've already done to reduce packaging, and this test will take our efforts to a whole new level as we help the growing number of customers who want to shop in a more sustainable way.
He added: "We know we're not perfect and have more to do, but we believe this is an innovative way to achieve something different."
Many people have expressed their support on Twitter, asking for the project to be rolled out in Waitrose stores across the country.
Waitrose are trialling packaging-free supermarketing in their Botley Road store. Bring your own containers or borrow some from them pic.twitter.com/5Q71rPkCrM

— Damian Cugley (@damiancugley) June 3, 2019
Given the warm response to the trial store in Botley Road, Oxford, the initiative that runs for 11 weeks until 18 August, could be implemented in more Waitrose stores in the UK.