Young Fan Stuns Paul McCartney With Live Performance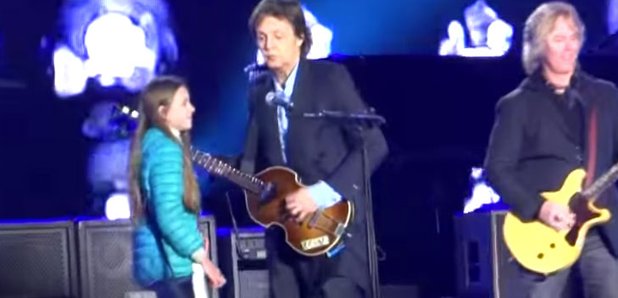 A young fan at a concert in Argentica surprised the veteran musician when she joined him on stage to sing the classic 'Get Back'.
Paul McCartney is still one of the biggest touring musicians in the world, playing to stadiums and arenas filled with tens of thousands of people. You might think that joining the musical legend for this would provoke a touch of stage fright, but this young fan showed none of that.
10-year-old Laila was at the show in Buenos Aires with her mother when McCartney spotted her in the crowd holding a sign. He invited her on stage to chat at which point she said she wanted to place bass with him. "That's very good," he told her "but you don't have your bass with you."
Not to be deterred facing this once in a lifetime opportunity, Laila pointed to the roadies who brought over a white bass guitar. "I didn't see this coming!" the stunned Beatle said, "This could be interesting."
With the guitar a little big on her, Laila gamely plucked along as the ex-Beatle lowered the mic stand for her join in a duet on the classic song 'Get Back'.
As they finished, to huge applause, Paul asked her what she thought of playing such an amazing song to such a huge crowd "Mochas gracias", she said.
What an amazing moment, one that Laila and her 'mama' will never forget.