Annie Lennox Discusses Grammy Performance And Why She Isn't Writing New Music
5 March 2015, 11:15 | Updated: 2 November 2017, 15:29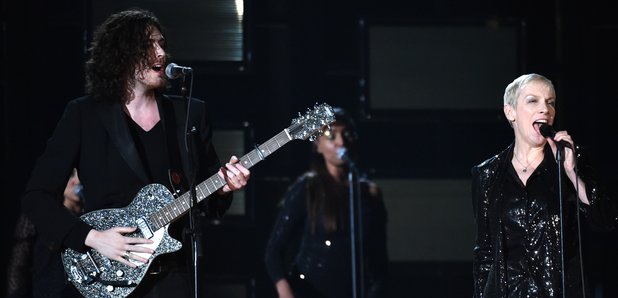 Annie Lennox has spoken about her Grammy 2015 performance and why she won't be writing new music any time soon.
Annie Lennox has been riding high recently, following her terrific performance at the 2015 Grammy Awards.
Lennox performed a duet with Hozier, combining 'Take Me to Church' and then a rendition of 'I Put a Spell on You.' The performance was considered one of the best of the night, but Lennox wasn't taken in by the social media reaction.
"It's like the Roman Empire: You get the thumbs up and everybody loves you," Lennox told Vogue in an interview released yesterday (March 04). "Everybody is a critic nowadays and if they feel like they don't like you, they can steam into you with such abuse. So it's a schizophrenic experience."
Speaking about the reaction to the performance, Lennox said: "So many people were saying, "You were exploding on Twitter." And I was like, 'Really?' I just did what I did and I never know how people are going to take it. Sometimes people love you, sometimes they hate you."
Lennox released an album Nostalgia late in 2014, which featured classic covers. The Eurythmics singer has said she doubts she'll write music again: "For decades, I had a need to express something inside me that was dark, that needed to be brought out... I don't want to be unhappy forever."