Best Friend Shuns Bride's Wedding To Go To Adele Concert
30 May 2017, 10:32 | Updated: 2 November 2017, 15:29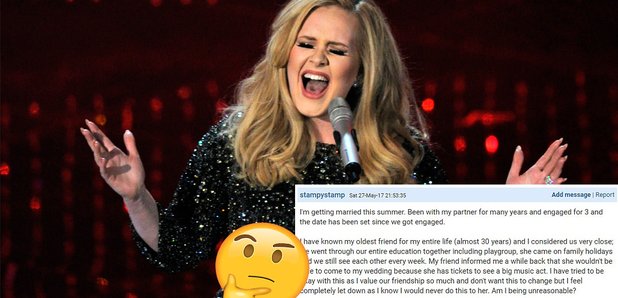 A disgruntled bride-to-be has been hurt by her best friend's decision to go to a music concert instead of her wedding.
Everyone knows it's next to impossible to get your hands on tickets to an Adele gig.
So if you managed to get a pair, not even your best friend getting married would be enough for you to give it a skip.
Or would it?
That's the ethical dilemma Mumsnet users have been discussing after one bride-to-be posted her disappointment after her best friend of 30 years declined her wedding invite, in favour of going to see an Adele concert.

To rub salt in the wound, the wedding date has been set for three years, long before the (free) concert tickets were acquired and no effort has been made to swap them for another date.

Other Mumsnet users were divided in their responses with user NurseScorne saying: "I have tickets to a big music act coming up and I wouldn't miss it for anyone – it could be my only chance to see them ever".
While another user, Ameliablue suggested another reason, "Had you asked her to be bridesmaid? I'm wondering if she hasn't been asked to be part of the ceremony she maybe feels that she isn't an essential guest."
One thing is clear – this best friend will be 'rolling in the deep' if she doesn't make it up to her friend!