Bette Midler: 'I Have No Patience'
19 November 2014, 09:41 | Updated: 2 November 2017, 15:29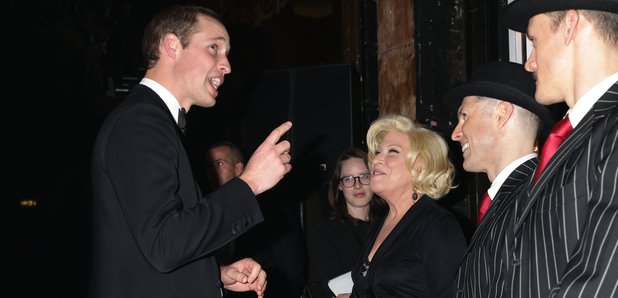 Bette Midler has been speaking about her lack of patience and meeting the Duke and Duchess of Cambridge.
The legendary singer and actress was introduced to Prince William and wife Catherine after she performed at the Royal Variety Performance at the London Palladium last week. The 68-year-old has now spoken of how impressed she was by the couple.
"He's a good looker and very tall. She's also very beautiful and also very tall, it was a big thrill. They are such lovely people," she said. "I'm of a certain age and I have no patience. They are so much younger and they have infinite patience, I think I guess they're born into it but they had a kind word for everyone, they talked to every single person on that stage, a really interested exchange with every single person, and to me, that's major. I'm like 'get out of my way I've just worked, I'm sweating, leave me."
The star is currently promoting her new album, It's the Girls! which sees Midler covering songs from famous girl groups from the 1920s through to the 1990s.
Speaking about the work she put into the album, she said; "I not only wanted to do the songs I also wanted to do the research, I like to go back and see what really happened, did they have a good time or were they robbed, it's all really fascinating to me."
The actress is set to tour the UK next year, for the first time in 35 years.
"I can't believe it's going to happen I can't believe it's been that long. I'm shocked. But I guess life got in the way, do love it here, I come all the time, you don't know I'm here, out of my drag no one notices me, thank God. I love the country, I love the language, I wish I spoke it", she joked.
Listen to Bette Midler's version of 'Baby It's You' below: