Billy Joel Picks Five Of His Favourite Billy Joel Songs!
11 January 2017, 12:40 | Updated: 17 November 2017, 15:53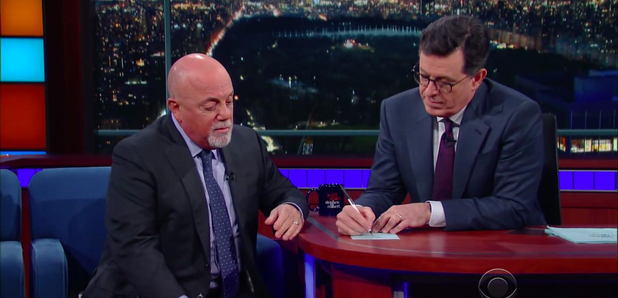 'Vienna' made the top five, but the others that also feature may surprise you.
We've chosen our top ten Billy Joel tracks, but what would the artist himself choose?

Appearing on the 'Late Show with Stephen Colbert' the six-time Grammy award winner revealed his favourites.

His first hit song was 'Piano Man' in 1973, but the singer-songwriter hasn't released a pop album since 1993.

When asked why there hasn't been any new music he said "i thought i'd had my say... I thought okay, just shut up now. I put out twelve albums, that's a nice round number, I'll stop".

As well as picking his shortlist, he told how he once managed to sneak backstage at a Jimi Hendrix gig. "We snuck in by putting cables, holding cables, and talking with an English accent'.
"if you were at a Billy Joel concert, and you're yelling out to you, what are the five songs?". Following a short pause Billy responded to the question, sharing his list by saying "i tend to like the album tracks, not the ones that are the hit singles".
And so, here are Billy's top five songs:
5. Vienna
4. And So It Goes
3. You May Be Right
2. She's Right On Time
1. Scenes of An Italian Restaurant
Watch Billy Joel rate... Billy Joel, below:
What are you favourite Billy Joel songs?