Coldplay's Chris Martin Sings Bowie, Impersonates Mick Jagger In Carpool Karaoke
3 February 2016, 10:06 | Updated: 2 November 2017, 15:29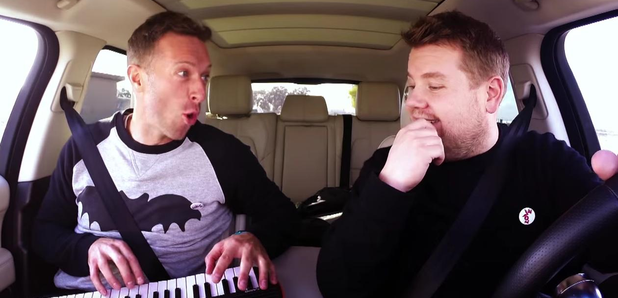 James Corden gives Chris Martin a lift to this weekend's Super Bowl in San Francisco.
Coldplay's Chris Martin is the latest star to take part in James Corden's 'Carpool Karaoke' as the two go on a journey to the Super Bowl in San Francisco.
TV host Corden picks up 'hitch-hiker' Chris Martin at the side of the road, and offers him a lift to the Super Bowl where he is playing with band Coldplay this Sunday.
The two embark on a long journey together discussing the rules of American football, the impending performance and stopping off for some snacks along the way.
Conversation naturally turns to party tricks and Martin admits he does a mean impression of Mick Jagger.
"There's only one secret, you have to go from high to low", Martin explains how he takes off Mick's distinctive voice.
Later on in the journey, Chris takes out a mini electric keyboard and belts out David Bowie's 'Heroes'. He salutes the sky at the end, saying "Thanks Dave".
Martin's appearance comes after Adele's brilliant Carpool Karaoke journey a few weeks ago and it's rumoured that Elton John is next!