The 11 greatest Christmas TV adverts of all time, from John Lewis to Coca Cola
7 November 2018, 12:07 | Updated: 16 November 2022, 13:28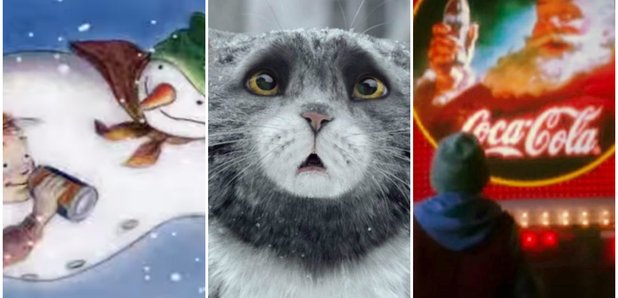 It's officially the Christmas lead-up season, and thus we've already seen many loads of new festive adverts popping up on our screens.
We've already ranked the many John Lewis Christmas ads of old, but what are the greatest Christmas ads ever?
Here's our list of the finest festive adverts from the archives:
11. Woolworths 1978
A who's-who of stars from Jimmy Young and Kenny Everett try and sell us a load of old rubbish, but isn't that Christmas is all about?
10. Marks and Spencer: Not Just Christmas Food
From 2006, this is when M&S went on full seductive mode by making us salivate over turkey, puds and more. All in slow motion, of course.
9. Toys R Us: A Magical Place
From 1989, this technically isn't a Christmas advert, but for some reason we always think of Christmas when we see it. We're still disappointed not to be greeted by a giraffe each time.
8. Yellow Pages: Mistletoe
Forever cute. And no, that isn't a young Robbie Williams, but he could be his doppelganger!
7. Sainsbury's: Christmas is for Sharing
Set during the Christmas Day truce in WW1, this moving ad from 2014 never fails to make us tear up.
6. Sainsbury's: Mog's Christmas Calamity
Author Judith Kerr returned for this one-off festive disaster. How could you stay mad at poor old Mog?
5. Allegro: Polish Man Learns English
A favourite cult hit from 2016, this one came from auction website Allegro, with a man learning English for a very special and heartwarming reason...
4. Irn Bru: The Snowman
A clever take on the famous Raymond Briggs classic, this 2006 ad featured the boy who refused to share his can of pop, followed by a surprise ending.
3. John Lewis: Monty the Penguin
This one topped our John Lewis Christmas advert list, and it remains a heartwarmer for the ages.
2. Coca-Cola: Holidays are Coming...
Christmas doesn't officially begin until you've heard that familiar jingle and the travelling truck.
1. Heathrow Airport: The Bair Family
These little guys always make us weep with happy nostalgic joy, and they never disappoint. Just watch this year's effort. But we're going for the 2017 advert, where we find out how Gran and Grandad first met.