Captain Tom Moore becomes oldest person to score a number one single with Michael Ball duet
24 April 2020, 17:34 | Updated: 24 April 2020, 18:02
Captain Tom Moore has continued to cement himself as the nation's favourite person, by scoring this week's number one single.
The 99-year-old war veteran - who celebrates his 100th birthday on April 30 - has landed straight at number one with his cover of 'You'll Never Walk Alone', a duet with Michael Ball.
The duo managed to keep off competition from The Weeknd, days after the Canadian singer pleaded with fans to buy Moore's song, which is raising money for the NHS.
The new version features an introduction spoken by Moore, who says: "When you walk through a storm, hold your head up high and don't be afraid of the dark.
"At the end of a storm there's a golden sky and the sweet silver song of a lark."
The single also features vocals from the NHS Voices for Care Choir.
Moore has now become the oldest living person to do achieve number one single, beating the previous record holder Louis Armstrong at 66 years old with 'What a Wonderful World' in 1968.
It is also Michael Ball's first number one single, having previously reached number two with 'Love Changes Everything'.
Michael Ball hailed Moore as an "inspiration", and said singing with him has been "one of the single greatest honours of my career".
He added: "Not only is he the biggest single fundraiser in British history and a decorated war veteran, he is the most charming man you could ever wish to meet."
Captain Moore said: "I never in my wildest dreams imagined I would be releasing a single with Michael Ball OBE, but I also never thought it possible for me to walk in the garden and raise millions.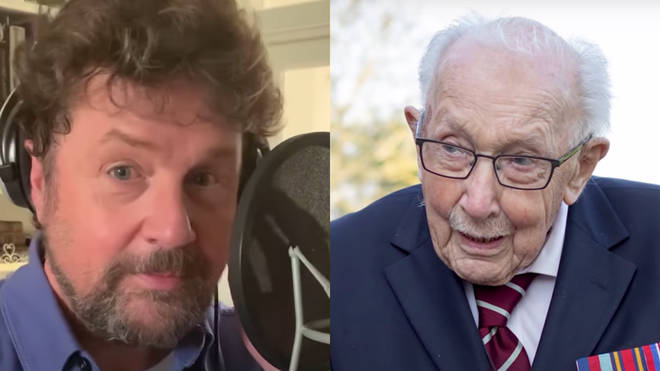 The Second World War veteran has become a national UK hero, after raising over £28 million for the NHS by completing laps of his garden.
He finished his target of 100 laps before his 100th birthday on April 30, but has pledged to keep walking for as long as people kept donating.
After calls for him to be knighted, Number 10 said Prime Minister Boris Johnson "will certainly be looking at ways to recognise Tom for his heroic efforts".