Michael Ball and Captain Tom Moore to release 'You'll Never Walk Alone' after he raises over £18 million for NHS
17 April 2020, 13:04 | Updated: 17 April 2020, 13:06
War hero Captain Tom Moore has completed the final ten lengths of his garden walk on a zimmer frame, after raising a staggering £18 million for the NHS.
The 99-year-old finished the last few steps of his 2,530-yard walk at his home in Bedfordshire on Thursday (April 16).
Before he began the final leg of his challenge, he was saluted by four soldiers from the Yorkshire Regiment, in a very emotional moment.
Captain Tom Moore has warmed the heart of the nation, as he completed the final stage of his challenge with a huge smile on his face. Tom has raised well over his intended £1,000 for charity, via his JustGiving page.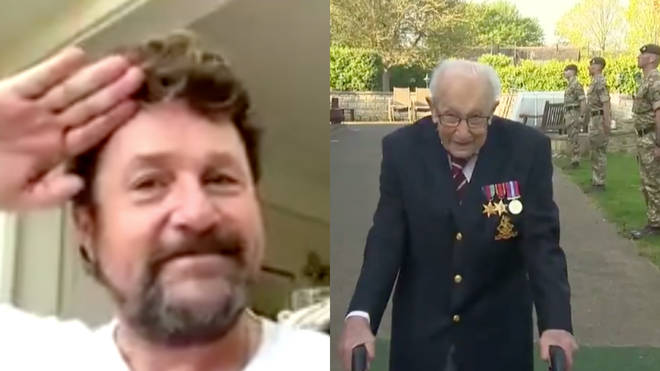 Speaking after he finished his walk, an emotional Captain Moore told BBC Breakfast: "I never ever dreamt I would be involved in such an occasion. We're doing so well, and knowing that the reason we started off was for the NHS."
He added: "I think you've all got to remember that we will get through it in the end, it will all be right but it might take time. All the people finding it difficult at the moment, the sun will shine again and the clouds will go away."
Michael Ball then appeared via video link to sing 'You'll Never Walk Alone', after telling him: "It's an extraordinary achievement. I've been trying to think of a song which encapsulates your achievement and what you have done for us."
Asked about the song, Captain Moore said: "First of all, Michael is such a super singer. I think it's true that people, we will not walk alone, wherever you are there are other people thinking about you thinking that soon everything will be better and we will all be smiling again."
He then sat down alongside his daughter, and watched a compilation of celebrities and athletes praising him for his achievement, including cricketer Ben Stokes, racing driver Damon Hill and even American TV personality Judge Judy.
The colonel of his former regiment, Brigadier Andrew Jackson, described him as a "legend".
On Friday (April 17), it was announced that Tom and Michael will be teaming up for a duet single of 'You'll Never Walk Alone'.
It will now be released as a charity single, featuring the Voice of Care Choir, with all profits going towards Tom's 100th Birthday Walk Fund.
Bravo, Captain Tom Moore, you are a true hero!