Coronavirus: How to be an NHS volunteer
25 March 2020, 12:43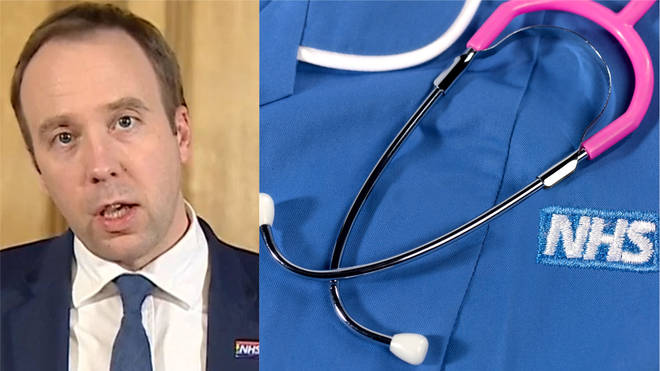 Health Secretary Matt Hancock has called on "NHS volunteer responders" to help with the coronavirus pandemic.
The UK government has called for volunteers to help the NHS during the coronavirus pandemic.
Speaking at a press conference on Tuesday, Matt said the government were seeking people in "good health" to volunteer.
Matt said: "I know how worried people are and while this is a great time of turbulence, it is a moment too that the country can come together in that national effort.
"As the next step in that effort, today we launch NHS volunteers. We are seeking a quarter of million volunteers - people in good health - to help the NHS, for shopping, in delivery of medicines and to support those who are shielded to protect their own health."
He added that it is a "new scheme set up so that people can come and help and make sure the NHS and local services needed can get all the support that they can."
Click here for the latest coronavirus advice from the NHS
So, how can you become a volunteer?
The requirements

- Volunteers must be 18 or over, and fit and well with no coronavirus symptoms.

- Those in higher-risk groups (including those over 70, those who are pregnant or with underlying medical conditions) will be able to offer support by telephone.

- Patient transport driver volunteers will also require an enhanced DBS check and will receive guidance to do this role safely.

What are the four volunteering roles available?

The four roles are Community Response volunteer, Patient Transport volunteer, NHS Transport volunteer, and Check in and Chat volunteer.

Community Response volunteer

This role involves collecting shopping, medication or other essential supplies for someone who is self-isolating, and delivering these supplies to their home.

Patient Transport volunteer

This role supports the NHS by providing transport to patients who are medically fit for discharge, and ensuring they are settled safely back in to their home.

NHS Transport volunteer

This role involves transporting equipment, supplies and/or medication between NHS services and sites.

The role may also involve assisting pharmacies with medication delivery.

Check in and Chat volunteer

This role provides short-term telephone support to individuals who are at risk of loneliness as a result of self-isolation.

This can be done from your own home.
You can sign up to be an NHS volunteer responder here
Prime Minister Boris Johnson announced on Monday that the country would be adopting new measures for three-weeks in an attempt to slow down the spread of the virus.
Boris said the police will now have the power to fine people if they leave their homes for any reason other than the following:
- Shopping for basic necessities
- One form of exercise a day - either alone or with a member of your household
- Medical need or to provide care help vulnerable person
- Travel to work - but only if necessary and you cannot work from home