Culture Club Play First Gig In Twelve Years - Pictures
22 October 2014, 12:09 | Updated: 2 November 2017, 15:29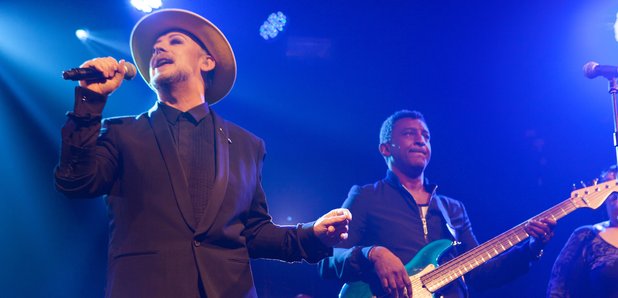 Culture Club took to the stage last night to play their first gig in twelve years.
The eleven-piece band, including original line-up with Boy George on vocals, Mikey Craig on bass, Roy Hay on guitar/keyboards and Jon Moss on drums/percussion, performed songs from their new album Tribes as well as the old classics.
The celebratory 'practice' gig lasted an hour and a half with fans leaving the venue ecstatic.
Writing on Twitter, Boy George thanked the band's fans for braving the aftermath of Hurricane Gonzalo to Charing Cross: "Thanks to all of you who braved the autumn chill to see CultureClub at Heaven. Love you all! :)"
Watch Culture Club's music video for 'Do You Really Want To Hurt Me' below: