EXCLUSIVE: Dolly Parton Tells Us She'd Love To Duet With Adele
18 August 2016, 15:11 | Updated: 2 November 2017, 15:29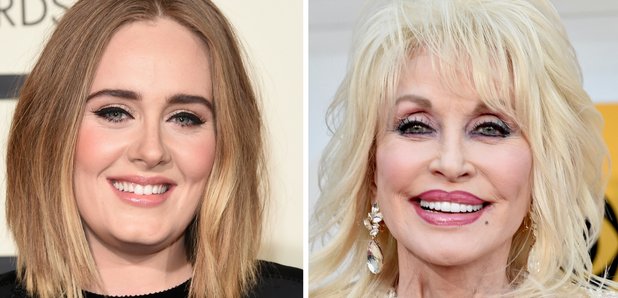 First Lionel Richie, then Barbra Streisand and now Dolly Parton – please Adele, make this one happen!
They're two of the world's most successful singer-songwriters and Dolly Parton has set our hearts racing by saying she would "love" to duet with Adele.
Speaking exclusively to Smooth Radio, the Queen of Country gushed about Adele saying, "I love her voice, I love her sound, I love her look, I just love how she is and maybe one of these days we'll get the chance to write something together."
DREAMS CAN COME TRUE!
Imagine the awesome power-ballad these two could come up with?
In fact, Dolly references Adele in the song lyrics from her brand new album 'Pure & Simple', when she talks about "painting my lips red and eyes like Adele".
When we questioned Dolly about this, she told us that she likes to do her friend's and relatives' make-up just like Adele's – well, who doesn't try and copy those winged eyes?
'Pure & Simple' also celebrates Dolly's 50 years of marriage to Carl Thomas Dean, who's notoriously private.
We asked Dolly what the secret is to a long-lasting marriage and she said, "trust, respect and a sense of humour" but also the fact that the couple spends time apart.
The singer also alluded to the fact that there have been some ups and downs, like any couple, saying, "we've worked at it, you have to work to make sure things are right."
Wise words from one of music's greatest.
Now Adele, if you're reading, please pick up that phone and say "Hello" to Dolly!