Drawing Of Ed Sheeran On The Back Of Filthy Van Goes Viral!
3 February 2017, 10:49 | Updated: 2 November 2017, 15:29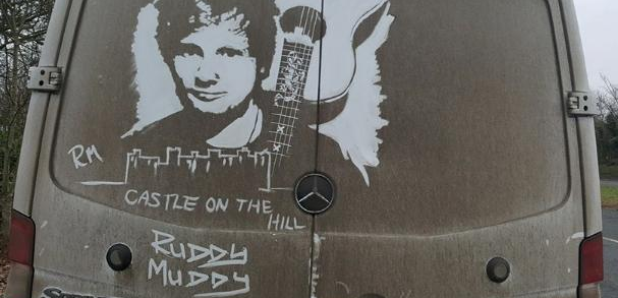 Artist Ruddy Muddy creates 'graffilthy art' and the 25-year-old music star is his latest inspiration.
Ed Sheeran may seem like he has it all but we're pretty sure he's never had a picture of his face drawn on the back of a filthy van, until now.
Artist Ruddy Muddy who creates 'graffilthy art' has drawn an amazing portrait of the popstar on the back of a white van and the picture is going viral.
Ruddy, whose real name is Rick Minns, uses dirt and oil splashes on the back of vehicles to create amazing portraits and landscapes and the 'Thinking Out Loud' singer is his latest muse.
The arty van has been spotted near Suffolk, East Anglia and may come to a town near you, keep those eyes peeled!
@edsheeran Next muddy van pic...:-) pic.twitter.com/Rk4EVxkMBu

— Ruddy Muddy (@Ruddy_Muddy) January 29, 2017