It's A Little Bit Funny! Elton John Dresses Up For Carpool Karaoke
8 February 2016, 09:30 | Updated: 2 November 2017, 15:29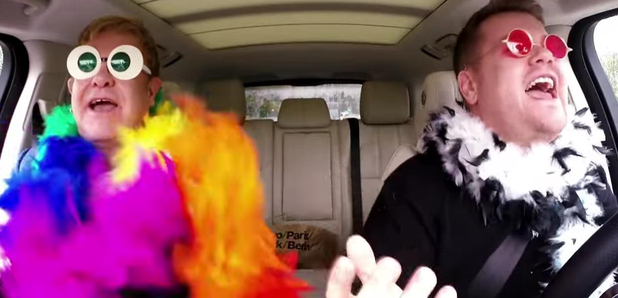 These videos just keep getting better and better!
Updated 8th Feb 2016
The guests on James Corden's Carpool Karaoke just keep getting better and better! And now here's the one to top them all...
On Super Bowl Sunday, British icon Elton John joined TV host Corden for some singing, musical talk and of course, FASHION!
The pair poke fun at Elton's flamboyant style by donning some colourful feather boas and tinted sunglasses during their car journey.
Joking aside, Corden always makes sure to ask the questions music fans want to know and he quizzes Elton about whether he feels he can rest easy now having had such an amazing career.
"I still have the energy of a 20-year-old and I want to carry on," Elton tells his driver. "Once you stop you die".
We certainly don't want Elton to stop any time soon!
Watch Elton John's FULL Carpool Karaoke:
____________________________________________________________________________________
5th Feb 2016
James Corden has had some of the biggest music stars in his car but perhaps this one is going to top them all...

Yes it's the one we've been waiting for - Sir Elton John is the latest star to take a musical spin with the TV host.
In the sneak preview released today, the pair belt out Elton's hit 'Don't Let The Sun Go Down On Me' which he performed with George Michael.
And is it just us, or is James Corden getting better and better at singing? He takes on the harmony in this clip and gets it spot on!
The full clip will air on Sunday night which is 'Super Bowl Sunday' in the States, but in the meantime - enjoy this!