WATCH: Elton John Surprises Commuters With Impromptu Performance
5 February 2016, 09:32 | Updated: 2 November 2017, 15:29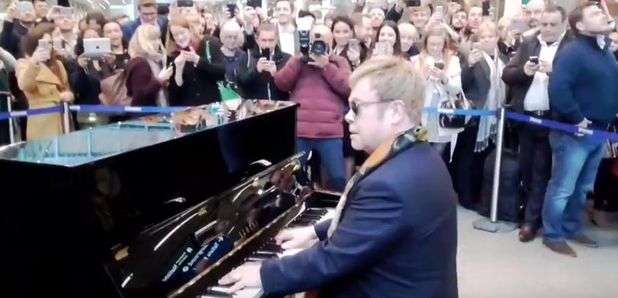 The Rocket Man surprised passengers at St Pancras station with a piano performance.
Lucky passengers at St Pancras station were treated to an impromptu piano performance yesterday by British legend Sir Elton John.
Commuters got a huge surprise when the singer turned up out of the blue with a piano and played out some of his hits including 'Tiny Dancer'.
#Eltonjohn playing Piano at #St_pancras_station pic.twitter.com/Dw8sT50Az8

— أفراح (@2002afrah) February 4, 2016
After playing for a few minutes, he wrote a note on the piano reading 'Enjoy this piano. It's a gift. Love, Elton John' and left the Yamaha piano as a donation to the station.
By this time, a large crowd had gathered and were posting pictures and videos to social media, not believing their luck!
It comes as the singer releases his latest album 'Wonderful Crazy Night' today.
Watch Elton John's Full Surprise Performance At St Pancras Station: