Best friends discover they were accidentally swapped at birth on live TV - video
2 August 2018, 12:11 | Updated: 3 August 2018, 10:22
This is the highly emotional moment when two women discovered they were raised by the wrong families after being swapped at birth.
The two women were unaware of the secret until they appeared on a TV show in Russia where their DNA was taken.
Svetlana Gachegova and Ekaterina (Katya) Naidenko, both 28, were good friends growing up, and often sat next to each other in class and went to each other's homes for sleepovers.
As a child, Svetlana also became very close to Ekaterina's older sister Lyuba, with friends noticing their resemblance.
DNA tests have now proven that they are in fact blood sisters. Footage from Russian channel NTV shows Svetlana hugging her real mother Valentina Naidenko, after receiving the shocking evidence by presenter Viktor Kalgutin, a professor of forensic medicine.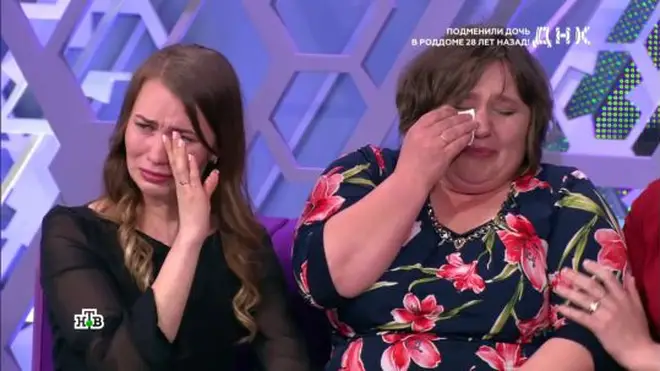 The discovery of the Soviet maternity hospital error has caused horror for both women and their families. Ekaterina is a mother of two, and has now found out that she is not actually related to her four siblings and loving parents. Both her blood parents have since passed away.
Svetlana, who is a mother of one, said: "I would like to forget this DNA test. I still do not believe it has happened to me. It feels like I've been watching a movie."
The swapped women and Valentina will now aim to take legal action against the health ministry, each demanding compensation for moral damages of 10 million roubles (£120,000).