Britain's Got Talent: Escapologist Jonathan Goodwin stuns everyone with incredible straightjacket fire stunt
13 April 2019, 21:23 | Updated: 15 April 2019, 12:19
Britain's Got Talent fans were stunned by a particularly scary stunt tonight (April 13), performed by hopeful Jonathan Goodwin.
The 39-year-old escapologist amazed judges Simon Cowell, Amanda Holden, David Walliams and Alesha Dixon with his routine, which saw him being placed in a straightjacket, hung upside down and set on fire.
After being put into place by assistant Janine, Jonathan managed to escape the jacket and put himself out with a fire extinguisher in under a minute.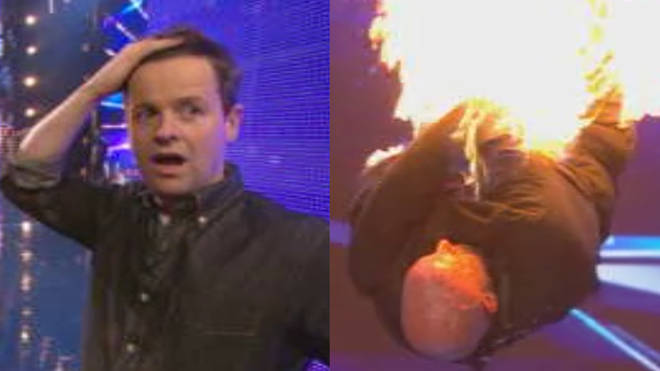 "I've never seen anything like that," said Declan Donnelly, who had earlier tried and failed to get out of the straightjacket.
Simon added: "I'm actually still a bit gobsmacked. It was actually terrifying. You are absolutely nuts. You said it was a 10, I'm gonna call that an 11."
Jonathan received four yeses and was put through to the next round of the competition.
If you recognise Jonathan, it's because he's appeared on TV many times before. He first appeared on Channel 4 TV show Dirty Tricks, and has later appeared in TV specials The Seven Stupidest Things to Escape From, and Deathwish Live.
He also appeared on Discovery Channel's One Way Out and How Not to Become Shark Bait, in which he allowed himself to be attacked by a Caribbean reef shark.
In 2012, he had his own series on UKTV's Watch channel, called The Incredible Mr. Goodwin.
A year later, he appeared on The Jonathan Ross Show, and performed the stunt of lying on a nail, while having a breezeblock broken on his chest with a sledgehammer.
He has also appeared as part of various West End and Broadway shows, such as The Illusionists and Impossible.
Watch the full performance below: