Who is Kseniya Simonova? Meet the sand artist who is a favourite to win Britain's Got Talent: The Champions
31 August 2019, 15:00 | Updated: 2 September 2019, 10:11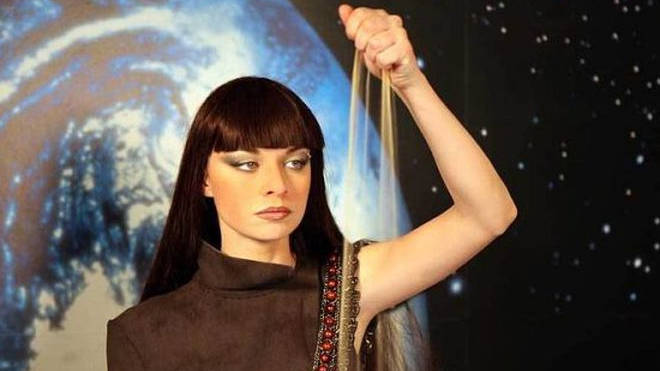 Kseniya Simonova is a true legend of the Got Talent franchise.
The 34-year-old first found international fame after she appeared on Ukraine's Got Talent to showcase her unique and powerful sand art.
She went on to win the competition, and has since entertained crowds and viewers around the world.
Here's your quick guide to Kseniya ahead of her appearance on Britain's Got Talent: The Champions.
Who is Kseniya Simonova?

Kseniya Simonova. Picture: Getty

Kseniya is a Ukrainian sand animation performance artist.

She also works as a graphic artist, illustrator, film director, and is a Merited Artist of Ukraine.

In 2009, she won that year's series of Ukraine's Got Talent. In 2019, she appeared in America's Got Talent: The Champions, reaching the finals and finishing in third place.

In June 2008, Simonova and her husband Igor Paskar founded the charity organization Live, my Sun!, which provides assistance to ill children in need of treatment, and support for cancer patients.

Where is Kseniya from?

She was born in 1985 in Yevpatoria, a town on the Crimean peninsula, in Ukraine, which was then a part of the Soviet Union.

Her mother, Irina Simonova, is also an artist, theatrical designer and teacher. Her father, Alexander Simonov, is a former military officer who runs a business in furniture design.

Kseniya's parents initially discouraged her from a career as an artist. She later said: "It is a constant struggle. I knew that, and was ready for it. If you chose this profession, you're struggling all your life. You're always looking for something more, and actually, I was never interested in a life of comfort and buying furniture."

How did she get into sand art?

Her husband first suggested she try out sand performance. She was unsure, but she decided to try it after struggling to improve their finances at the time.

When tests with beach and river sands didn't quite work, her husband sold his printing equipment to buy 3 kilograms of expensive volcanic sand.

Her husband then suggested that she should enter Ukraine's Got Talent. Despite never performing in front of people before, she presented a two-minute sand story and went through.

She wanted to perform a sand story about World War II, but the producers wanted her to choose a more family-friendly theme. She refused, saying:"I just want to bring some immortal sense to this show. Not just pictures or video clips. Something close to all hearts."

The sand story was an eight-minute story about a young couple separated by the war, and it was soon seen by hundreds of millions of people on YouTube.

What other sand stories has she made?

Among her many performances include:

- 'Eternal Tears' (2011) - about the Chernobyl disaster.

- 'September 11th' (2011) - devoted to 10th anniversary of 9/11

- 'Haiti' (2010) - about the earthquake in Haiti

- 'Life Always Wins' (2012) - devoted to the earthquake and tsunami in Japan in 2011

- 'Love is Stronger' (2011) - about the last Russian Emperor Nicolas II and his family

- 'Angel on the Seashore' (2016) - devoted to a 3-year old Syrian boy refugee Aylan Kurdi who sank in Mediterranean Sea in 2015.