Game of Thrones music moments: The catchy theme tune, Ed Sheeran, Snow Patrol and more
11 April 2019, 15:20 | Updated: 11 April 2019, 15:59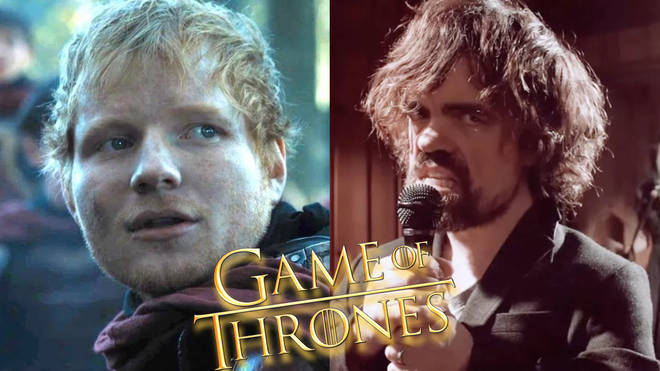 Game of Thrones is finally back for its final season this weekend, and we've been as impatient as the White Walkers waiting around for it.
While the HBO fantasy epic is mostly focused on bloody battles, scary dragons and evil scheming, there's a surprising amount of brilliant music moments.
From celebrity cameos to catchy ditties, here are our favourite musical moments:
Ramin Djawadi's Game of Thrones theme

Da da, da da da da, da da da da...

There aren't many instrumental theme tunes that are as strangely catchy than Game of Thrones.

Composer Ramin Djawadi has said that the series creators wanted the main title theme to be about a journey of sorts.

The title theme is unusually long for a TV series at nearly two minutes long, with the cello chosen as the main instrument, as he thought it had a "darker sound" that suited the series.

Of course, there have been several cover versions and parodies over the years, with some of our favourites below:

Ed Sheeran's random cameo

Ed Sheeran appeared in a cameo role to perform as a Lannister soldier in season 7, because why not?

He also performed a quick burst of the song 'Hands of Gold'.

Snow Patrol's Gary Lightbody sang a ditty

Gary Lightbody, frontman of Snow Patrol, made a cameo in Game of Thrones by playing a travelling troubadour.

He led Roose Bolton's men in a singalong of a rather rude song called 'The Bear and the Maiden Fair'.

Jerome Flynn!

You'd be forgiven for not realising that Jerome Flynn, aka the double 'ard Bronn in Game of Thrones, is also Jerome out of Robson and Jerome.

Alongside Robson Green, Jerome scored several massive hits in the mid-1990s. A pre-X Factor Simon Cowell spotted that money was to be made after the pair sang on ITV drama Soldier, Soldier, and an unlikely pop duo was born.

'The Rains of Castermere'

The most prominent song to keep coming back on the series is 'The Rains of Castermere'.

The National recorded the song in season 2, while Icelandic band Sigur Rós recorded it in season 4, and also popped up for a cameo appearance.

Coldplay's Game of Thrones musical

As part of the US version of Red Nose Day, Coldplay were on hand to put together a special Thrones musical featuring the cast, with... mixed results.

The Brotherhood Without Banjos

We never knew that we'd want a whole album by Ser Jorah, Beric Dondarrion, Tormund and The Hound.

A Game of Thrones spinoff album could be in the works, after Kristofer Hivju (Tormund) shared several clips of the so-called 'Brotherhood Without Banjos' band, covering Roger Whittaker and Tom Waits and singing an original composition called 'Anthem over Season Seven End'.

Hivju said the group, consisting of himself, Rory McCann (The Hound), Iain Glen (Ser Jorah Mormont) and Richard Dormer (Beric Dondarrion), would be releasing a new album called What Will Fate Bring Us???