Groundhog Day to be shown on repeat to celebrate 25th anniversary
23 January 2018, 16:57
Back in 1993, we watched Bill Murray acting out the same day over and over again in Groundhog Day.
Now you can celebrate the film's quarter of a century anniversary on February 2, by watching the classic film again (and again) at selected special (and repetitive) screenings at Vue Cinemas.
The film will be shown in selected cinemas on Friday, February 2 across the UK, including Manchester Printworks and Westfield White City. Tickets can be found now at Vue's website.
Of course, you don't have to sit and watch every single screening, though that would be quite the mission.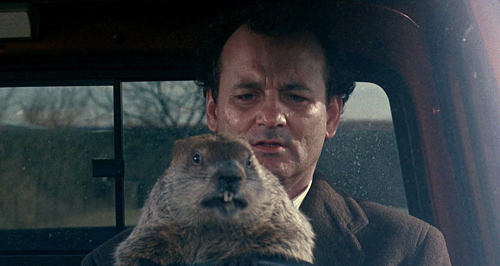 Johnny Carr, Alternative Content Manager at Vue, said: "At Vue we're passionate about offering our customers the opportunity to see all types of content, beyond just the latest blockbusters, on the big screen. We are excited to bring back such a classic film for fans to relive in the best way possible."
In case you haven't seen it, Groundhog Day starred Bill Murray as arrogant TV weatherman Phil Connors, who, during an assignment covering the annual Groundhog Day event in Pennsylvania, finds himself caught in a time loop, repeating the same day again and again.
In 2006, the film was added to the United States National Film Registry after being deemed "culturally, historically, or aesthetically significant". A stage musical version of the film was also released in 2016.