Who is Bake Off's Hannah Cockroft? Paralympian's age, achievements and MBE revealed
5 March 2019, 16:44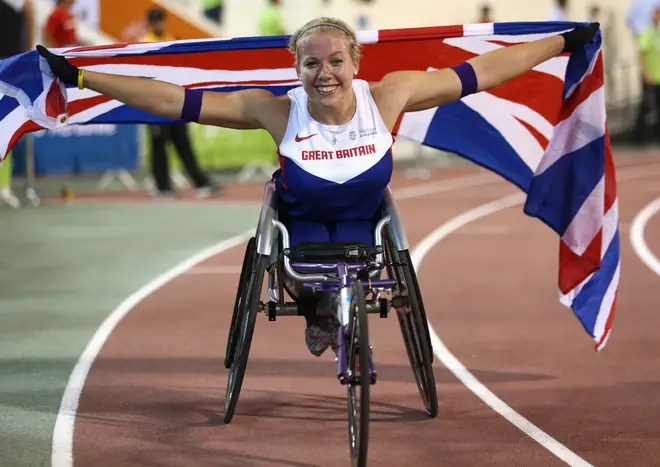 Hannah Cockroft is one of the contestants on this year's Celebrity Great British Bake Off, but how did this Paralympian rise to fame?
The Paralympian Hannah Cockroft is one of today's most talented figures in British sport.
Here's everything you need to know about the wheelchair sprint racer ahead of her Bake Off debut:
Hannah Cockroft age: How old is she?

Hannah Cockroft is 26 years old.

She was born in Halifax on July 30, 1992.

Hannah Cockroft's career: what are her achievements?

Hannah Cockroft won a Gold medal in the Women's 800m at the Rio Paralympics in 2016.

Picture: Getty Images

Nicknamed 'Hurricane Hannah', Hannah Cockroft is a 5x Paralympic champion and 10x World Champion.

Her passion for sports began in school where she played netball, and this developed into a love for wheelchair racing.

Hannah said: "I met Dr Ian Thompson, husband of Baroness Tanni Grey-Thompson, who gave me my first taste of wheelchair racing... and the rest, as they say, is history."

She's also starring on this year's Celebrity Great British Bake-Off for Step Up to Cancer against fellow stars Russell Brand, John Lithgow and Jon Richardson.

Hannah Cockroft condition: Why is she in a wheelchair?

Hannah speaks candidly about using a wheelchair, and even tells the whole story on her website. She said:

"Within 48 hours of being born back in July 1992, I suffered two cardiac arrests, which resulted in damage to two areas of my brain and left me with deformity to my legs and feet and weakened hips.

"Doctors predicted I would never walk and would rely on a wheelchair for life."

Hannah Cockroft MBE: When did she get the medal?

Hanna Cockroft received her MBE in 2013.

Picture: Getty Images

Hannah received her Member of the British Empire (MBE) medal from the Prince of Wales, following an Investiture ceremony at Buckingham Palace in 2013.

Hannah Cockroft's Instagram: is she on social media?

She is indeed - take a look at her Instagram page to keep up with her Celebrity Bake Off journey.

Hannah Cockroft's Twitter: what's her handle?

Her Twitter page @HCDream2012 is where you'll find the latest from Hannah.