I'm a Celebrity 2018's voting stats and percentages are revealed
10 December 2018, 16:23 | Updated: 10 December 2018, 16:39
I'm a Celebrity is over for another year, and we now don't know what to do with our evenings.
Now that we've celebrated Harry Redknapp's crowning as King of the Jungle, ITV has released the full voting stats for series 18, which is always a fascinating read.
The stats reveal that Harry was the clear winner from the very beginning, topping the vote every night.
Also, the percentages reveal that when Dec and Holly say "it might be you" to one of the campmates, it doesn't necessarily mean they were in the bottom two. On one occasion, Harry was seemingly in the bottom two, but the new stats show that this wasn't the case.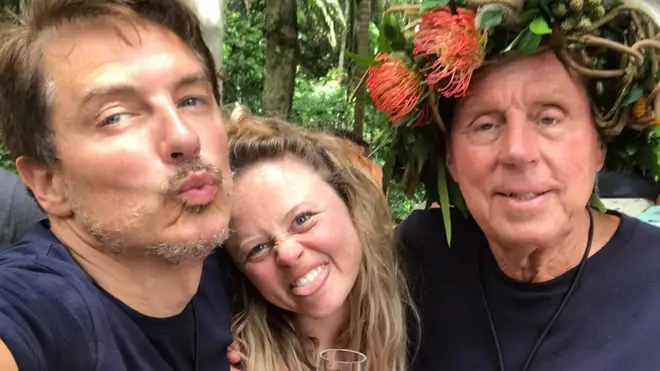 The full voting stats are:
Vote 1 - Bushtucker Trial
Emily - 37.31% - DID THE TRIAL
Rita - 21.77%
Fleur - 21.12%
James - 19.8%
Vote 2 - Bushtucker Trial
Anne - 35.15% - DID THE TRIAL
Rita - 25.23%
Fleur - 20.07%
James - 19.55%
Vote 3 - Bushtucker Trial
John - 20.47% - DID THE TRIAL
Malique - 17.2%
Harry - 13.75%
Fleur - 10.64%
Nick - 10.32%
James - 8.64%
Sair - 7.6%
Rita - 7.47%
Emily - 3.91%
Vote 4 - Bushtucker Trial
Malique - 29.04% - DID THE TRIAL
Rita - 22.04% - DID THE TRIAL
John - 15.15%
Nick - 12.99%
Emily - 11.53%
James - 9.27%
Vote 5 - Bushtucker Trial
Noel - 13.81% - DID THE TRIAL
Nick - 12.55% - DID THE TRIAL
Malique - 11.82%
James - 11.06%
John - 10.51%
Sair - 10.29%
Fleur - 10.19%
Emily - 7.97%
Rita - 6.4%
Harry - 5.4%
Vote 6 - Camp leader
Nick - 24.03% - CAMP LEADER
Anne - 22.89%
John - 18.52%
James - 9.07%
Rita - 8.77%
Fleur - 6.57%
Emily - 5.64%
Malique - 2.96%
Sair - 1.55%
Vote 7 - Bushtucker Trial
Anne - 19.79% - DID THE TRIAL
Noel - 13.54%
Malique - 12.37%
Sair - 11.12%
Fleur - 8.61%
Emily - 8.48%
Harry - 7.77%
Nick - 5.99%
James - 5.39%
John - 4.36%
Rita - 2.58%
Vote 8 - Bushtucker Trial
Malique - 15.89% - DID THE TRIAL
Sair - 15.44% - DID THE TRIAL
Noel - 12.91%
Harry - 8.92%
Emily - 7.9%
James - 7.57%
Anne - 7.42%
Fleur - 7.19%
John - 7.14%
Nick - 4.83%
Rita - 4.8%
Vote 9 - Team Captains for the Immunity Games
Harry - 16.66% - TEAM CAPTAIN
Nick - 13.02% - TEAM CAPTAIN
John - 12.04% - TEAM CAPTAIN
James - 10.54%
Rita - 9.4%
Fleur - 9.29%
Anne - 9.28%
Emily - 6.4%
Noel - 5.8%
Malique - 3.97%
Sair - 3.6%
Vote 10 - Vote-off
Harry - 31.75%
James - 16.94%
Emily - 16.43%
Anne - 12.98%
Rita - 11.28%
Noel - 10.62% - ELIMINATED
Vote 11 - Bushtucker Trial
Fleur - 39.8% - DID THE TRIAL
James - 15.05%
Harry - 8.36%
Rita - 8.19%
Emily - 7.89%
John - 7.42%
Malique - 5.85%
Nick - 5.18%
Sair - 2.25%
Vote 12 - Vote-off
Harry - 25.7%
Emily - 11.11%
Fleur - 11.08%
Nick - 10.82%
James - 10.54%
Anne - 8.72%
Rita - 7.63%
(John - 5.85%) - RULED OUT ON MEDICAL GROUNDS
Sair - 4.89%
Malique - 3.65% - ELIMINATED
Vote 13 - Vote-off
Harry - 24.75%
Fleur - 12.55%
John - 11.84%
Emily - 11.22%
Nick - 10.03%
James - 9.98%
Anne - 7.64%
Rita - 7.53%
Sair - 4.47% - ELIMINATED
Vote 14 - Vote-off
Harry - 23.26%
Emily - 17.81%
Fleur - 12.73%
John - 11.68%
Nick - 10.06%
James - 9.73%
Anne - 7.63%
Rita - 7.11% - ELIMINATED
Vote 15 - Vote-off
Harry - 25.44%
Emily - 17.53%
Fleur - 15.49%
John - 12.19%
Nick - 10.16%
James - 9.84%
Anne - 9.35% - ELIMINATED
Vote 16 - Vote-off
Harry - 28.05%
Emily - 20.2%
John - 15.6%
Fleur - 15.27%
James - 11.39%
Nick - 9.49% - ELIMINATED
Vote 17 - Vote-off
Harry - 31.15%
Emily - 21.34%
John - 17.82%
Fleur - 16.75%
James - 12.95% - ELIMINATED
Vote 18 - Vote-off
Harry - 43.22%
Emily - 22.26%
John - 19.15%
Fleur - 15.36% - ELIMINATED
Vote 19 - Third Place Vote-off
Harry - 57.14%
Emily - 24.35%
John - 18.51% - ELIMINATED
Vote 20 - The Winner
Harry – 68.95% - WINNER
Emily – 31.05%