I'm a Celebrity: Anne Hegerty inspires heartwarming letter from 11-year-old autistic boy
20 November 2018, 14:00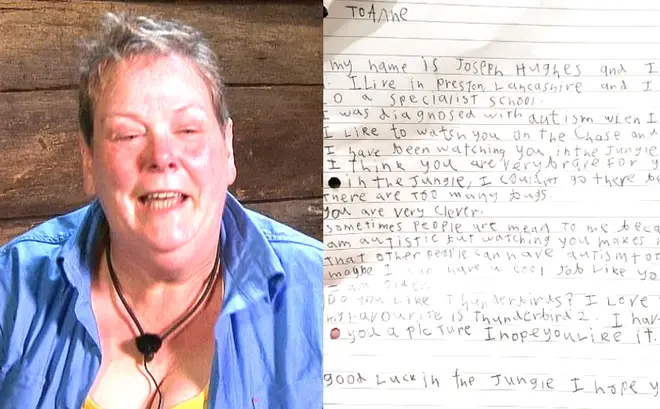 The Chase star has been praised by an 11-year-old fan with a touching letter.
Currently appearing in I'm A Celebrity... Get Me Out of Here!, Anne - who was diagnosed with Asperger's syndrome in 2007 - discussed her autism before entering the jungle, and admitted producers were "anxious" about her coping on the show.
Last year's winner Georgia 'Toff' Toffollo shared an image of a letter sent by fan Joseph Hughes from Preston, who said she was an inspiration to him thanks to her "cool" job.
Anne Hegerty aka The Governess was diagnosed with the form of autism when she watched a TV programme, and realised she had all of the same symptoms.
She said that Asperger's makes her unorganised, leaving her with a "cluttered" house that she won't let anyone visit, and that she is also "faceblind", meaning that she might end up getting "some of the campmates mixed up".
Joseph wrote the letter, saying: "To Anne, My name is Joseph Hughes and I am 11. I live in Preston Lancashire and I go to a specialist school. I was diagnosed with autism when I was 5. I like to watch you on The Chase.
"And now, I have been watching you in the jungle. I couldn't go in there because there are too many bugs. You are very clever.
"Sometimes people are mean to me because I am autistic but watching you makes me see that other people have autism too and maybe I can have a cool job like you when I am older.
"So you like Thunderbirds? I love them. My favourite is Thunderbird 2. I have drawn you a picture, I hope you like it. Good luck in the jungle, I hope you like it. Love from Joseph."
Meanwhile, the company behind Thunderbirds have also tweeted, saying that they would love to send Joseph a Thunderbird 2 model:
Anne Hegerty is one of 10 celebrities taking part in I'm a Celebrity this year, which began on Sunday night (November 18).