Watch Tom Cruise convince James Corden to do an actual skydive - video
27 July 2018, 11:46
It's just a regular afternoon for Tom...
James Corden probably wishes he didn't take on Tom Cruise's offer to jump out of a plane at 15,000 feet, but he's impressed us all by doing it!
Hollywood star Tom appeared on James's US talk show earlier this week, and dared James to skydive with him to prove it's not as easy as he makes it look in Mission: Impossible - Fallout.
James agreed, and it was all rather tense... Watch the moment above.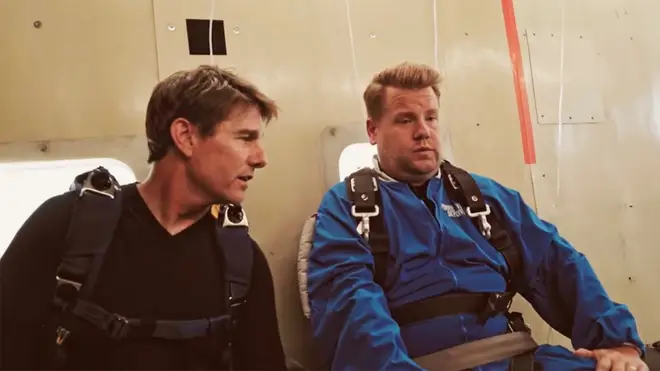 After Tom taught James what to do while in the air via the use of a wheely table, he admitted at the last minute that he had no confidence, telling Tom: "The worst problem is in all of this is, if we both die, I will get zero press.
"I mean, I will be a footnote. The story will be 'Tom Cruise dies – also that guy who occasionally drives around in a car'.'"
Tom reassured him and said: "It's gonna be OK – chances are, we're going to make it." That's not exactly what you want to hear, Tom!
James also gave his wife Julia a call to say goodbye, and to let her know that Tom will make sure she's taken care of if he didn't make it. Bleak.
But then he made the big leap, as did Tom, and it was quite the thrill ride. Watch the full video below:
Tom Cruise Forces James Corden to Skydive