John Barrowman undergoes spinal injections after suffering serious neck injury
2 December 2019, 11:50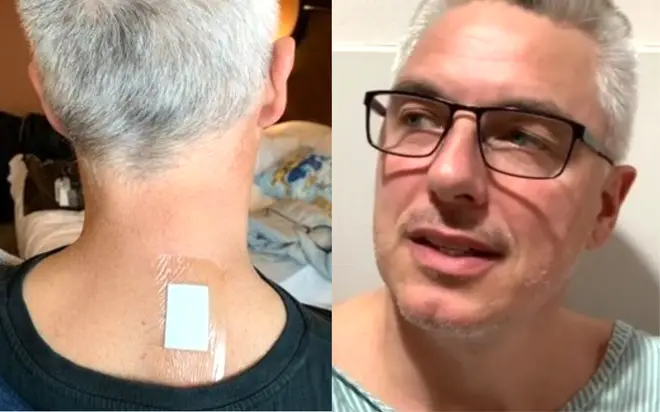 John Barrowman has reassured fans he is recovering after being rushed to hospital after suffering a severe neck injury.
The 52-year-old singer and actor was admitted to hospital and was forced to cancel several of his Fabulous Christmas shows during his UK tour.
Taking to social media, John told fans: "Hi everyone, it's 2:30 in the morning and I've just had to wake up and take another pain killer and anti-inflammatory.
"Tomorrow at 8:30 I'm going in for a procedure on my vertebrate.
"Scott says I have to have some small needs… and then some big ones put into my neck so I'll let you know how it goes."
John later posted another video before having an injection, updating fans saying: "It's morning and I'm going in for my injection, so I'll let you know how it goes."
The entertainer later said his injection "went well", sharing a photo of a plaster on his shoulder, alongside an x-ray.
He added: "Procedure done. It was a bit uncomfortable."
It comes after John cancelled his Bristol and Glasgow shows after his injury "made it impossible for him to sing and move".
He told his fans: "I'm devastated to have to tell you that due to a severe neck injury, which has made it impossible for me to sing and move, I've been rushed to hospital for a diagnosis.
"The Doctors have advised me to not perform this weekend while I try and recover, so I've had to make the very difficult decision to cancel my performances at the Bristol Hippodrome on Saturday November 30th and at the SEC Armadillo, Glasgow on Sunday December 1st.
"Hopefully a series of intraspinal injections will reduce inflammation and get me back up and running again in time for Monday's show in Manchester.
"Fortunately Glasgow was able reschedule us to Tuesday night so I'm looking forward to that too!"