Richard Madeley swears on live TV just five minutes into Good Morning Britain - video
15 April 2019, 11:15 | Updated: 15 April 2019, 11:18
Richard Madeley couldn't last until the first ad break on Good Morning Britain today (April 15) without accidentally swearing.
Richard had the rest of the Good Morning Britain team in stitches, after making the gaffe within the first few moments of the show.
Sitting in for Piers Morgan alongside Smooth's Kate Garraway, Richard was talking about his recent fake tan exploits when he made the error.
Speaking alongside Kate, Charlotte Hawkins and Richard Arnold, he was explaining what happened last Wednesday when he turned up to the set with his face a different colour to the rest of him.
"So this morning you're going to stay the same colour?" Kate cheekily asked him.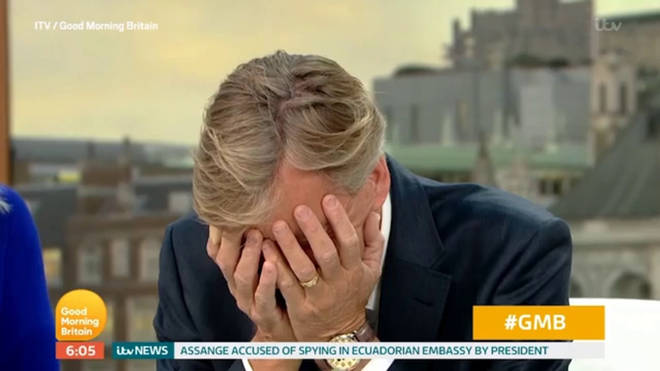 "I bloody hope so!" he replied, before immediately realising he'd sworn on live TV. He responded: "Excuse me, oh no he's sworn again."
Now with his head in his hands, his team couldn't help but giggle, with Charlotte saying: "It's five minutes past six and you're off already."
He eventually explained his fake tan situation, saying: "On Wednesday morning I was in the kitchen, I get ready in the kitchen, because I've been told off for having stubble, I had a dry shave in the kitchen. It was quite itchy, so I reached into the cupboard which I thought was aftershave balm.
"I thought it smelt a bit funny. When I got home on Wednesday saw what I looked like, you should see the towel – it's black."