Ricky Gervais heartbroken after beloved cat Ollie dies, aged 16 - watch the moment they first met on live TV
10 March 2020, 14:44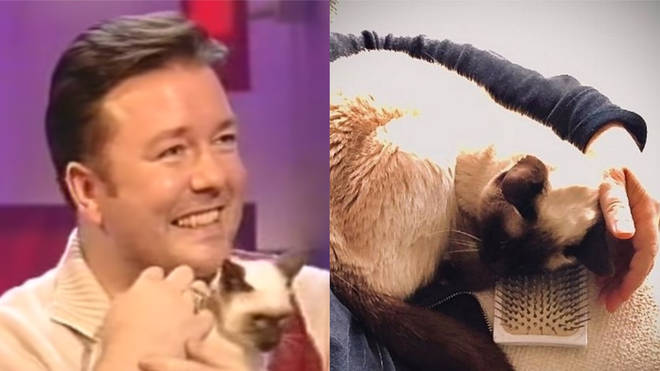 Ricky Gervais has paid tribute to his beloved pet cat Ollie, who has sadly passed away at the age of 16.
Fans of the comedian have followed Ollie's life over the past 16 years, as Ricky would often share photos and videos of his pal on social media.
The 58-year-old After Life actor shared two photos of Ollie, writing: "Just had to say goodbye to the sweetest little soul I've ever known. RIP Ollie July 9th 2003 - March 10th 2020."
His partner Jane Fallon also tweeted the heartbreaking news, alongside four pictures of Ollie at home.
"I have awful news. My smart, funny, feisty, beautiful sidekick of the last 16 & a half years @myleftfang has passed away after a sudden down turn in her health at the weekend," she wrote.
"My heart is broken in two. I have no idea what I'm going to do without her by my side. #Ollie."
Ollie was named after Ricky's comedy icon Oliver Hardy, and had thousands of her own followers on Twitter under the username @myleftfang.
Ollie was given to Ricky as a gift by Jonathan Ross on the TV presenter's show back in 2003.