The Stranger Things season 2 soundtrack features music from Cyndi Lauper, The Police and more 1980s icons
27 October 2017, 09:42 | Updated: 24 June 2018, 11:25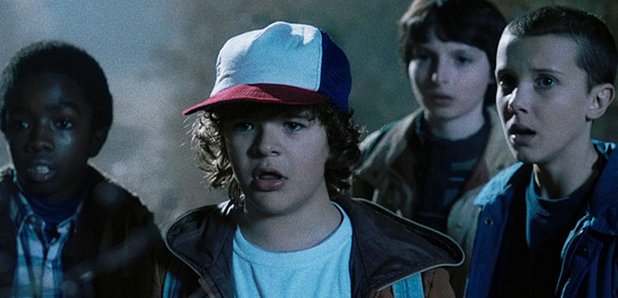 Stranger Things has become a pop culture phenomenon since launching on Netflix last summer.
Today (October 27) marks the launch of season two of the supernatural drama, and for anyone who saw the first season, that's very exciting indeed.
In case you haven't seen the first season and are wondering what the fuss is all about, then all you need to know is that it's set in the 1980s (instant win), and features mysterious supernatural events occurring in a small American town, after a young boy goes missing.
Thanks to its period setting, it means that fans are treated to an incredible dose of 1980s nostalgia, and one of the best things about the show is its music. Not only is the score from Kyle Dixon and Michael Stein gorgeous, but the choice of tunes from the era are excellent.
To whet your appetite for a weekend of TV bingeing, here's a full list of songs to look forward to, including classics from Duran Duran, The Police, Cyndi Lauper and Kenny Rogers...
Musical spoilers below!
Episode 1:
Devo - 'Whip It'
Oingo Boingo - 'Just Another Day'
The Romantics - 'Talking In Your Sleep'
Scorpions - 'Rock You Like a Hurricane'
Gary Paxton - 'Spooky Movies'
Warren Klein & Niki Oosterveen - 'Every Other Girl'
Episode 2:
Ray Parker Jr - 'Ghostbusters'
Ted Nugent - 'Wango Tango'
Swing Set - 'Blackout'
Motley Crue - 'Shout at the Devil'
Kenny Rogers & Dolly Parton - 'Islands in the Stream'
Bobby Boris Pickett - 'Monster Mash'
Duran Duran - 'Girls on Film'
Big Giant Circles - 'Outside the Realm'
Episode 3:
The Mercy Brothers - 'Whistle on the River'
Jim Croce - 'You Don't Mess Around with Jim'
Tones on Tail - 'Go!'
The Psychedelic Furs - 'The Ghost in You'
Ill Repute - 'Clean Cut American Kid'
Al Casey Combo - 'Cookin''
Jumpstreet - 'How I Feel About You'
Episode 4:
The Clash - 'This is Radio Clash'
Paul Engemann - 'Scarface'
The Haxan Cloak - 'The Growing'
Episode 5:
Carroll Lloyd - 'Try My Love'
Carl Weathers - 'You Ought to be With Me'
Bobby Bare - 'Green Green Grass of Home'
Shock Therapy - 'Can I Do What I Want'
Hittman - 'Metal Sport'
Robert Gorl - 'Darling Don't Leave Me'
The Jetzons - 'When The Sun Goes Down'
Channel 3 - 'Strength in Numbers'
Billie Holiday - 'No More'
Episode 6:
Queen - 'Hammer to Fall'
Cameron Brooks - 'Where Django's At'
Artie Shaw - 'There is Frost on the Moon'
Billie Holiday - 'You Better Go Now'
Roy Orbison - 'Blue Bayou'
Ratt - 'Round and Round'
Episode 7:
Bon Jovi - 'Runaway'
Fad Gadget - 'Back to Nature'
John Carpenter - 'The Bank Robbery'
The Runaways - 'Dead End Justice'
The Icicle Works - 'Whisper to a Scream'
Episode 8:
Jack Cook - 'The Love You Save May Be Your Own'
Metallica - 'The Four Horsemen'
The Clash - 'Should I Stay Or Should I Go'
Episode 9:
Barbra Streisand - 'The Way We Were'
Donna Summer - 'I Do Believe'
Tangerine Dream - 'Rare Bird'
Bobby Helms - 'Jingle Bell Rock'
Pat Benatar - 'Love is a Battlefield'
Olivia Newton John - 'Twist of Fate'
Cyndi Lauper - 'Time After Time'
The Police - 'Every Breath You Take'