Gary Barlow Plays Surprise Gig Wearing A Mask Of His Own Face
31 May 2016, 10:20 | Updated: 2 November 2017, 15:29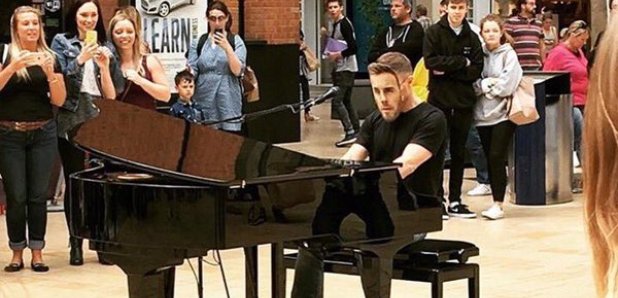 Gary Barlow is The King of Surprises and he's struck again, this time in Bristol!
Gary Barlow loves a good surprise.

Recently he's been turning up unannounced at weddings and birthdays treating fans to performances of his great songs.
And while most people were enjoying a day off work on the recent bank holiday, Gazza was happy to be out and about.
He surprised shoppers at Bristol's Cabot Circus by sitting down at the piano to sing 'Could It Be Magic', wearing a mask of his own face!
It's unclear why the music star chose to throw people off the scent by disguising himself, as erm... himself but he was noticed right away by fans.
@GaryBarlow we knew straight away it was you in Bristol!!! #mask pic.twitter.com/SpCTY53yQY

— Welsh Linda Cook (@WelshLindaCook) May 30, 2016
It seems that Gary really does love surprising his fans. Remember when he recently showed up at a 40th birthday party of one of his biggest fans?
So if you've got an occasion coming up soon, you know what to do...