Gary Barlow Gives Take That Fan The Surprise Of Her Life!
17 May 2016, 14:41 | Updated: 2 November 2017, 15:29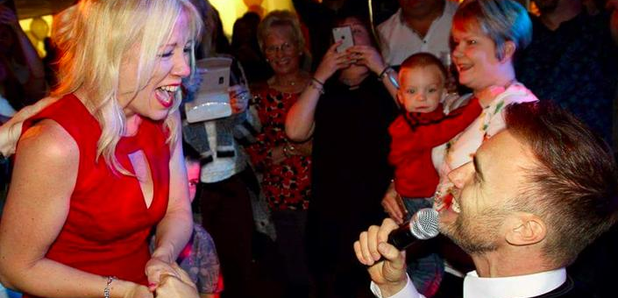 Jo Chapman had been tweeting Gary Barlow up to 40 times a day, but she never realised her wishes would come true!
A Gary Barlow fan certainly had the Greatest Day ever when the pop star turned up at her 40th birthday.
Jo Chapman, from Kent had been tweeting the star up to 40 times a day and had put posters up in her car and on lampposts, in a campaign to get the Take That star to her birthday bash.
And her dreams came true when the singer surprised her with a performance of 'Greatest Day' in front of her friends and family.
@GaryBarlow Thank you so much for coming to my mums party, it was flipping amazing and I'll never forget it.❤ pic.twitter.com/K9JTo21lwt

— phoebe❤ (@teddyxsheeran) 14 May 2016
"When he walked through the door I just thought, 'Oh my God.' I couldn't believe it. I just screamed like a lunatic and ran over to him," said Chapman. "I was surprised I was still conscious. It was just unbelievable, I'm still in shock."
In March, the Take That frontman invited fans on social media to start a campaign if they wanted him to sing at a "milestone birthday", and that's just what Jo Chapman did.
It was Jo's friend Suzi who was then contacted by Gary's team weeks before the event and she had to keep it all very secret.
So, if you've got a milestone birthday coming up this year, you know what to do!