Beatles producer George Martin dies, aged 90
9 March 2016, 08:00 | Updated: 2 November 2017, 15:29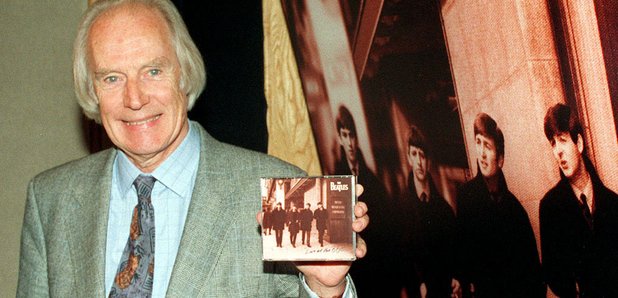 Sir George Martin, legendary producer of The Beatles' records and so-called 'Fifth Beatle', has passed away at the age of 90.
The news was announced this morning by Beatles drummer Ringo Starr, who tweeted: "God bless George Martin peace and love to Judy and his family love Ringo and Barbara. George will be missed.'

Martin was one of the most renowned producers in pop music history, producing and providing inventive musical contributions to The Beatles' key albums, including legendary works like The White Album, Revolver, Rubber Soul and Sgt. Pepper's Lonely Hearts Club Band.

However, he was originally interested in classical music, attending the Guildhall School of Music and teaching himself piano as a child.

When he became head of Parlophone Records in 1955 and then came across a four-piece rock 'n' roll band called The Beatles in 1962, though, his place in music history became permanent.

Over the course of the band's career, Martin used innovative production techniques to support and influence the band's songwriting, providing string arrangements for songs like Paul McCartney's 'Yesterday' and 'Eleanor Rigby'.

After his time with The Beatles, Martin also produced songs like Elton John's re-released version of 'Candle In The Wind', dedicated to Diana, Princess of Wales. He was knighted by the Queen in 1996.