WATCH: Daniel Craig And Monica Bellucci Kiss In 'Writing's On The Wall' Video
5 October 2015, 09:40 | Updated: 2 November 2017, 15:29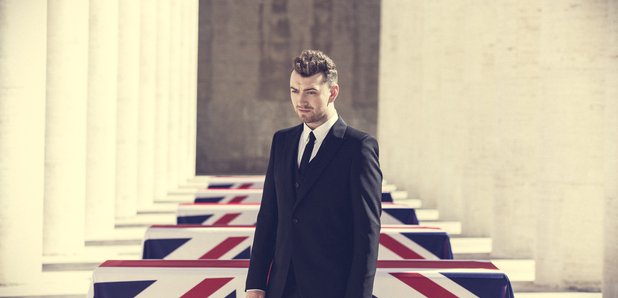 The video for 'Writing's On The Wall' is here and it's all kinds of epic!
UPDATE: 5th October 2015
Sam Smith has finally released the video for his Bond theme tune, 'Writing's on the Wall', and it's all kinds of epic.
We get a look at more footage from 'Spectre' which shows Daniel Craig trekking through snowy terrain and then driving across the open dessert.
It also features a very steamy scene between Bond and leading lady Lucia Sciarra, played by Italian beauty Monica Bellucci.
They lock lips in what looks like a very posh hotel room but we'll have to wait until October 26th when 'Spectre' is released to see the full scene!
Watch their steamy kiss now!
UPDATE: 25th September 2015
The wait is finally over!
Today Sam Smith released 'Writing's On The Wall', the theme tune to the 24th Bond movie, 'Spectre' and it was worth the wait.
It's an epic song, typically moody and mysterious with a heavy string presence giving it that Bond signature.
The song's co-written by Smith and GRAMMY Award winner Jimmy Napes and is the first Bond theme tune recorded by a British male solo artist since Tom Jones 'Thunderball' in 1965.
"I am so excited to be a part of this iconic British legacy and join an incredible line up of some of my biggest musical inspirations," said Smith.
The previous Bond soundtrack for 'Skyfall' was performed by Adele and won the Golden Globe for Best Award Song.
We think this one could do the same - what do you think?
UPDATE: 21st September 2015
Sam Smith was recently announced as the 'mystery' artist who would sing the 'Spectre' theme tune.
And now the 'Lay Me Down' singer has shared a clip of the new song on his Twitter page.
It's called 'Writing's on The Wall' and is as epic as we expected, but will it be better than Adele's 'Skyfall'?
We'll have to wait and see....
Have a listen!
4 days!! http://t.co/LYGQePI8Cm Thanks to everyone pre-ordering, can't wait for you to hear 'Writing's On The Wall' https://t.co/nEYRMK8qif

— SAM SMITH (@samsmithworld) September 21, 2015
_______________________________________________________________________
Director Sam Mendes has said that he already knows who will sing Spectre's theme song.
He refused to reveal the identity of the musician set to record the 24th James Bond film theme.
"When will you find out? You'll have to ask Barbara Broccoli, but I would say - on the basis of the last one - very, very late in the day," he told Entertainment NOW!.
Spectre will see Daniel Craig return to the role of Bond alongside a cast including Léa Seydoux, Monica Bellucci, David Bautista, Andrew Scott, Ralph Fiennes, Naomie Harris, Ben Whishaw, Rory Kinnear and Christoph Waltz.
Spectre will be released on November 6, 2015 in cinemas around the world.
Of course, Adele performed the theme for 2012's Skyfall.
Listen to Adele's 'Skyfall' below: