'John Travolta Is Not Creepy' - Scarlett Johansson
27 February 2015, 14:24 | Updated: 2 November 2017, 15:29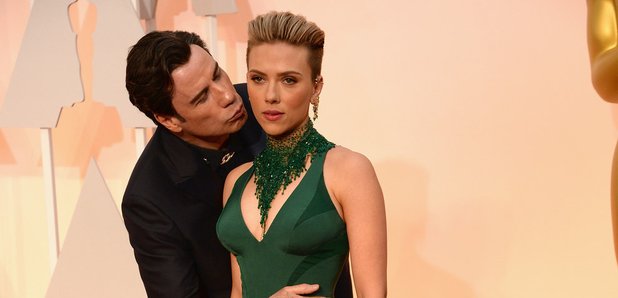 Scarlett Johansson has defended John Travolta's seemingly odd kiss on the Oscars red carpet last weekend.
The actress has said in a statement that the encounter was "very sweet and totally welcome".
The 30-year-old actress was approached by the 'Grease' actor during the 87th Academy Awards on last Sunday before he kissed her cheek and slid his arm across her waist as she posed on the red carpet. The results, it has to be said, look a bit weird.
However, in the statement, Johansson said that there is "nothing strange, creepy or inappropriate about John Travolta", and described the actor as "a class act".
She continued: "The image that is circulating is an unfortunate still-frame from a live-action encounter that was very sweet and totally welcome.
"That still photo does not reflect what preceded and followed if you see the moment live. Yet another way we are misguided, misinformed and sensationalised by the 24-hour news cycle.
"I haven't seen John in some years and it is always a pleasure to be greeted by him."
Honestly, we were a bit worried about Travolta's behaviour at the Oscars, so we're pleased to hear this from Johansson!
Watch Travolta in action in one of our favourite duets from Grease, 'You're The One That I Want':