Julie Andrews Reveals Her Thoughts About Lady Gaga And The Sound Of Music
12 March 2015, 08:56 | Updated: 2 November 2017, 15:29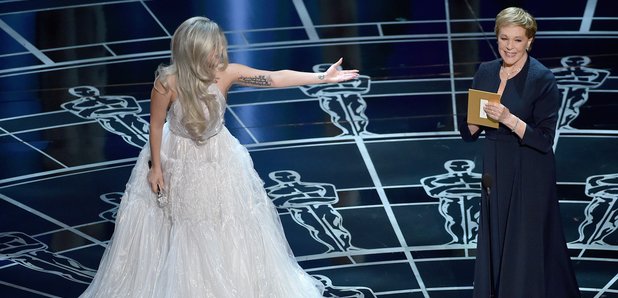 The Sound of Music star Julie Andrews has spoken out about her unlikely friendship with pop-turned-jazz star Lady Gaga.
Julie Andrews also spoke to Billboard about her experience playing Maria von Trapp in the popular 1965 film.
Andrews had never met Lady Gaga before to this year's Oscars, but Gaga had called her before the award show to make sure Andrews wasn't upset with Gaga's Sound of Music performance.
"Of course I wasn't [upset]. I said, 'Just have a good time and enjoy it! Go for it!' She said she wanted to do it as a tribute to me, and she was singing everything in my key, to which I said, 'Why? It's so high!' And she said, 'Because I wanted to honour you,'" says Andrews.
She continues, "I've always been a fan [of Gaga] but she just knocked it out of the ballpark that night. I was thrilled by her and for her. I thought it was so lovely."
Asked when the last time she watched The Sound Of Music, Andrews said "Well, I've bumped into it once in a while, if it's suddenly showing on television. Now, I'm not the one who sits down with the grandchildren - normally it's their mums who do it for them!
"If I happen to catch it, because it's playing at Easter or Christmas or something, I might glance at it for a moment and remember with fondness the scene that I happen to be glimpsing. I don't think I've seen it through for many a year, probably in total no more than about 6 times."
Watch Julie Andrews perform 'The Sound of Music':