Kate Bush: 'Live Comeback Was Extraordinary'
22 October 2014, 10:43 | Updated: 24 June 2018, 15:57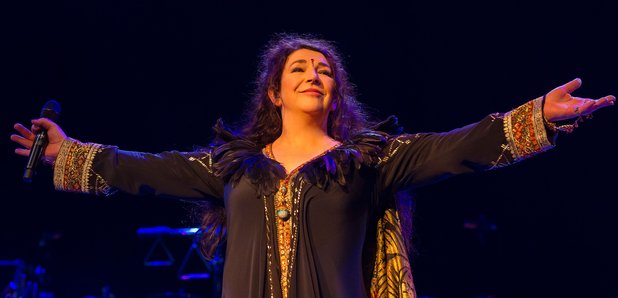 Kate Bush has revealed that she "loved" her recent live comeback shows.
The singer - who performed her first live dates in over 35 years at London's Eventim Apollo - wrote a message on her website to thank fans for attending.
Bush posted the following message:
Hi there,
Now all the shows are over, it's pretty difficult to explain how I feel about it all. It was quite a surreal journey that kept its level of intensity right from the early stages to the end of the very last show. It was also such great fun.
It was one of the most extraordinary experiences of my life. I loved the whole process. Particularly putting the band, the Chorus and the team together and watching it all evolve. It really was the ultimate combination of talent and artists, both from the music business and the theatre world. I never expected everyone in the team to be so lovely and we all grew very close. We became a family and I really miss them all terribly.
I was really delighted that the shows were received so positively and so warmly but the really unexpected part of it all was the audiences. Audiences that you could only ever dream of. One of the main reasons for wanting to perform live again was to have contact with that audience.They took my breath away. Every single night they were so behind us. You could feel their support from the minute we walked on stage. I just never imagined it would be possible to connect with an audience on such a powerful and intimate level; to feel such, well quite frankly, love. It was like this at every single show.
Thank you so very much to everyone who came to the shows and became part of that shared experience. It was a truly special and wonderful feeling for all of us.
Very best wishes,
Kate x
Bush is also apparently planning to release a live DVD of her 'Before The Dawn' concerts.
Watch Kate Bush's music video for 'Running Up That Hill' below: