Lionel Richie Pays Tribute To Diana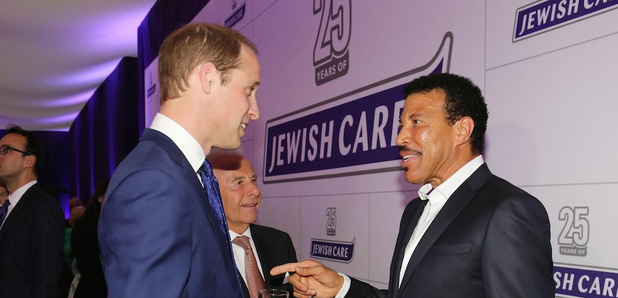 Lionel Richie sings Hello to Prince William in memory of mother, and speaks out about close friend Michael Jackson's death.
Last night, performing at the Alexandra Palace, Lionel Richie touched hearts and minds when he shared a poignant memory of Princess Diana. It was made all the more special by the fact Prince William was amongst the audience for the Jewish Care charity fundraiser.
"Many years ago I had the pleasure of meeting Princess Diana and tonight we have Prince William here," said the 65-year-old smooth-crooning lothario."
"I must tell you it is a pleasure to be with all of you but especially this gentleman, because his mother came to me ... and she said 'my favourite song is Hello'. So I thought tonight the dedication is to you, my friend."
Many eyes were reportedly glistening during the beautiful serenade.
This month sees the sixth anniversary of Michael Jackson's death, and Richie told Hello! how he still struggles to accept his passing away. He mourned the fact that the 'King of Pop' never got to lead a normal life.
"He never got to hang out as a normal kid, playing soccer, going to school, having a first kiss. He didn't have a 'real'," Lionel said. "His 'real' was, 'Hey, Lionel. I bought a monkey.'"
Jackson died of acute proposal intoxication at age 50. Richie described the upset:
"It's my birthday on 20 June and I'll never forget that year - I decided to delay my party because Michael was rehearsing for his big tour. He only lived a block and a half away and I wanted our kids to get together so I told him I would put it off until the weekend. But that was the week that Michael died."