Michael Bublé Defends The Bizarre Way He Eats Corn On The Cobb
20 April 2016, 10:42 | Updated: 2 November 2017, 15:29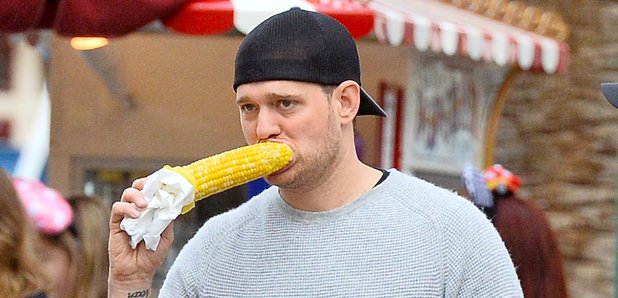 He just doesn't know how to eat corn on the cobb yet!
Canadian crooner Michael Buble was on a family holiday in Disneyland last week when he was captured by photographers eating a corn on the cobb, in a rather strange way.
Holding the cobb upright, Buble was devouring the vegetable like it was an ice-cream, instead of turning it to the side and eating it that way.
And now Michael has defended his bizarre corn-eating behaviour with a post on Twitter saying "This is vegetable harassment!!! What I do with my Cobb is nobody's business."
Glad he's got a sense of humour about the whole thing...
This is vegetable harassment !!! What I do with my Cobb is nobody's business. #mesocorny #paparazzi #shuckme pic.twitter.com/wpVO9rFuxj

— Michael Bublé (@michaelbuble) April 15, 2016