What happened to Jive Bunny and the Mastermixers 30 years later?
15 May 2020, 17:43 | Updated: 15 May 2020, 17:46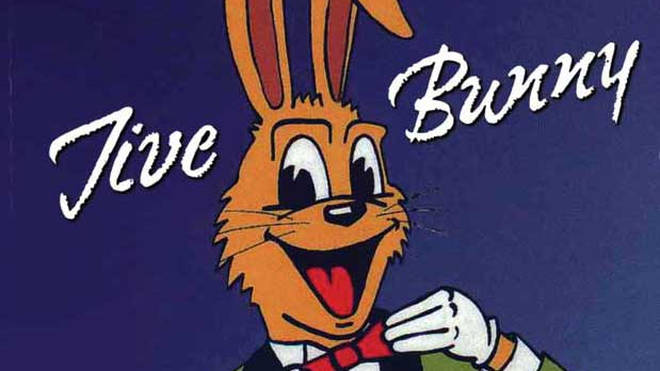 In 1989, an anthropomorphic cartoon rabbit became an unlikely chart success in the UK, scoring three number one singles.
It was the year in which the mashup or megamix was the latest chart toy, and it was also the era in which '50s nostalgia was in vogue, thanks to Back to the Future and Shakin' Stevens.
Cue Jive Bunny and the Mastermixers. The 'group' released radio-packaged mixes of famous hits from the '50s and '60s, and scored huge hits in the process.
In 1989, they had three number ones: 'Swing the Mood' (a mashup using Glenn Miller's 'In the Mood' alongside '50s favourites by Bill Haley, Little Richard and Elvis Presley), 'That's What I Like' (a cut-and-paste track featuring the Hawaii Five-0 theme and other rock and roll classics), and finally 'Let's Party' (a Christmas megamix using Slade, Wizzard and... Gary Glitter).
But who were the brains behind the bunny? And where are they now?
Who were Jive Bunny and the Mastermixers?

Jive Bunny And The Mastermixers. Picture: Getty

Jive Bunny were a British novelty pop group from Rotherham.

Doncaster DJ and producer Les Hemstock created the original 'Swing the Mood' mix for the Music Factory-owned Mastermix DJ service.

This was then developed as a single by father-and-son team John and Andrew Pickles.

Producer Ian Morgan also engineered and mixed some of their early releases, along with Andy Pickles. Morgan was replaced in the early 1990s by DJ and producer Mark 'The Hitman' Smith.

Why a bunny?

Chubby Checker with Jive Bunny in 1989. Picture: Getty

Why not?

The face of the group was Jive Bunny, a cartoon rabbit who appeared in the song's videos, while someone in costume would appear for promotional appearances.

The name 'Jive Bunny' was created by Andy Pickles.

What were their biggest hits?

The group had 11 entries in the UK singles chart between July 1989 and November 1991.

Each song sampled instrumental themes to join the classic songs together, similar to various dance music megamixes of the era.

'Swing the Mood' began with Glenn Miller's 'In the Mood' from 1939, followed by a re-editing of Bill Haley and His Comets' 'Rock Around the Clock', Little Richard's 'Tutti Frutti' and the Everly Brothers' 'Wake Up, Little Susie'.

'Swing the Mood' stayed at number one for five weeks in 1989, and also reached number 11 in the US.

'That's What I Like' had the theme music from TV police drama Hawaii Five-O, with overlaid clips from Chubby Checker's 'The Twist' and Ernie Maresca's 'Shout! Shout! (Knock Yourself Out)' among others. This also reached number one.

'Let's Party' used 'March of the Mods', alongside Christmas hits like Wizzard's 'I Wish It Could Be Christmas Everyday', Slade's 'Merry Xmas Everybody' and Gary Glitter's 'Another Rock 'N' Roll Christmas'.

However, they did not have permission to use the original Wizzard track, so Roy Wood re-recorded the vocals of the track for them.

They also scored hits with:

- 'That Sounds Good to Me' (#4)
- 'Can Can You Party' (#8)
- 'The Crazy Party Remixes (#13)
- 'Over to You John (Here We Go Again)' (#28)

The original European tracks featured the original recordings by the original artists. However, legal issues prevented certain tracks being used in America, so the American Jive Bunny songs had re-recordings of tunes by Bill Haley, Del Shannon and others.

Where are they now?

Les Hemstock later became a trance DJ, and has worked with Paul Van Dyk.

In 2018, Hemstock told the Mirror that he made just £100 from their multi-million-selling hits. "I've DJ'd all my life and I have done OK but certainly not as lucrative as you might expect. I shop in ­Morrisons and Tesco," he said.

Andy Pickles went on to found the hard house record label, Tidy Trax, with fellow DJ Amadeus Mozart. He also created his own company, U-Explore, which provides career advice to students.

Ian Morgan also became a successful club DJ, and Mark Smith worked in the music industry as a label manager and producer.

We haven't yet tracked down Jive Bunny himself, however.