John Barrowman interview: I'd love to play Barry Manilow in a movie biopic
4 December 2019, 13:09 | Updated: 4 December 2019, 13:49
John Barrowman is hoping to spread his excellent brand of fabulous-ness this Christmas, with a new festive album and UK tour.
The former Doctor Who star and all-round entertainer was sadly forced to cancel a number of gigs last week after suffering an agonising neck injury, but thankfully he's on the mend and will be back performing very soon.
Smooth Radio recently caught up with John about his new album A Fabulous Christmas, where he revealed the one person he'd be interested in playing in a movie biopic. The one and only Barry Manilow.
Watch our interview with John in full above.
When asked if there was anyone he'd love to play in a movie similar to Rocketman or Bohemian Rhapsody, John said: "Maybe a Barry Manilow one? But I don't think I could play Barry, because I look nothing like Barry!
"The hair doesn't even look the same anymore!"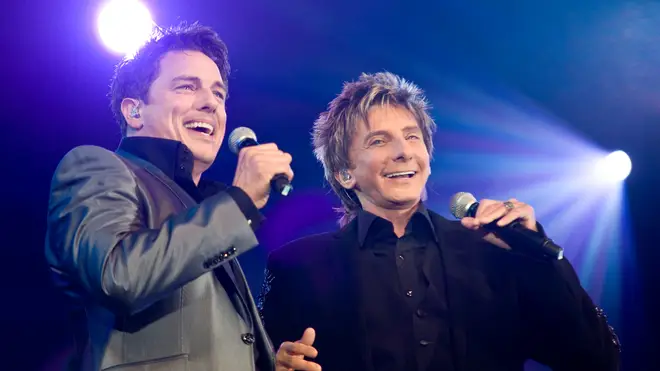 He also revealed that he has long been interested in making a new movie about Karen Carpenter.
"Actually, there's one that I think would be great, but I know it would never happen, because her brother is still alive, and I actually looked into buying the rights for it. It was Karen Carpenter.
"It was to do a musical. In fact, I talked to a big West End producer about that, and I know that they looked into the rights.
"Richard will not allow anybody to do a movie or a musical based on her life or their life story while he is still alive."
Speaking about recording a Christmas album, John explained: "It's been a passion project for a long time, solely because… you know, being an openly gay man for many years, I've always felt that the LGBTQ+ community has not been welcomed into a lot of – to be blunt – churches.
John Barrowman - A Fabulous Christmas
"So we're not able to celebrate Christmas like we would like to celebrate it, with everybody else, because we don't feel that… you know, some – I don't say 'all' – but there are certain congregations out there that would not accept us.
"However, we should be able to go to them. We should be able to celebrate Christmas like everybody else. And doing this album was a way for me to reclaim those songs, and also to turn them into the 'John Barrowman fabulous style' that everybody else who doesn't feel that they can go celebrate Christmas in a traditional way, can turn their Christmas holidays and their festive season into something that they can then cherish, and move forward with, and bring these songs back into their life."
John Barrowman's A Fabulous Christmas is out now.