Jon Batiste facts: Musician's age, partner, albums and career revealed
10 March 2021, 14:31 | Updated: 8 February 2022, 17:03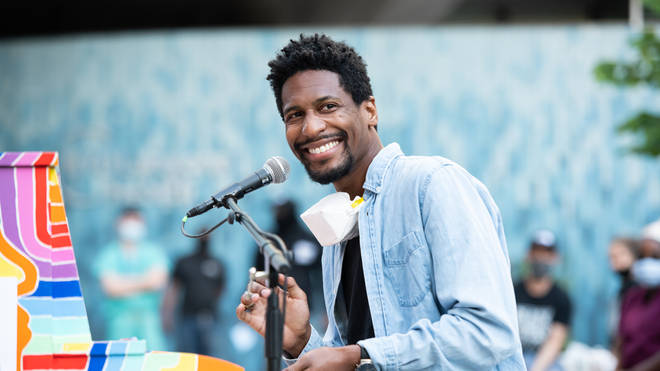 Jon Batiste is one of the world's most talented musicians and bandleaders.
The American artist has recorded and performed with countless artists including Stevie Wonder, Prince, Willie Nelson and Ed Sheeran, has released several albums, regularly tours with his band Stay Human, and currently stars with them as bandleader and musical director on The Late Show with Stephen Colbert.
Jon is also the Music Director of The Atlantic magazine and the Creative Director of the National Jazz Museum in Harlem.
In 2020, he found even more fans when he was the co-composer for the Pixar animated film Soul, for which he received the 2021 Golden Globe for Best Original Score, Motion Picture.
So all in all, a very talented guy. Here's all the important facts you need to know:
How old is Jon Batiste and where is he from?

Jon was born on November 11, 1986. He celebrated his 34th birthday in 2020.

He was born in Metairie, Louisiana. He is one of seven brothers, and grew up in Kenner, Louisiana.

His parents, Estella and Jean Batiste, owned a grocery store and a hardware store in New Orleans.

Jon is part of the musical Batiste family, which includes Lionel Batiste of the Treme Brass Band, Milton Batiste of the Olympia Brass Band, composer and arranger Harold Battiste, and Russell Batiste Jr.

Aged just 8, he played percussion with his family's band, the Batiste Brothers Band. Aged 11, he switched to piano.

Is Jon Batiste married?

Jon Batiste and Suleika Jaouad in 2019. Picture: Getty

Jon has dated journalist and author Suleika Jaouad for over ten years.

Suleika is the author of the Life, Interrupted column in the New York Times and has also written for Vogue, Glamour, Women's Health and others.

How many albums has Jon Batiste released?

Jon Batiste has released nine studio albums, including 2016's Christmas with Jon Batiste.

In March 2021, Jon released his latest album We Are, which includes the fantastic single 'I Need You'.

In 2014, Batiste and his band Stay Human appeared on The Colbert Report to perform the group's single 'Express Yourself'.

A year later, the group were announced as the house band on The Late Show with Stephen Colbert, and have since performed alongside the likes of Billy Joel, Will Smith, and John Legend.