One World: watch highlights from Elton, McCartney, Tom Jones, Buble, Celine and many more
20 April 2020, 10:16 | Updated: 20 April 2020, 10:23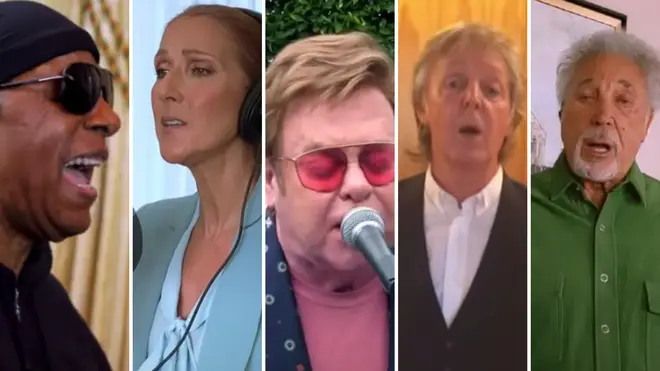 Some of the world's biggest music acts came together for the huge live event One World: Together at Home this weekend.
The event was aimed to celebrate healthcare workers during the coronavirus pandemic, with international stars including Sir Paul McCartney, Sir Elton John, Lady Gaga, Celine Dion, Sir Tom Jones and Michael Bublé taking part.
Stevie Wonder, the Rolling Stones and John Legend also filmed themselves singing in their own stylish homes.
In case you missed it, we've selected a few highlights for you to catch up with now:
Stevie Wonder - 'Lean on Me'

Stevie Wonder performs "Lean On Me" & "Love's In Need of Love Today | One World: Together At Home

Paul McCartney - 'Lady Madonna'

Paul McCartney performs "Lady Madonna" | One World: Together at Home

Elton John - 'I'm Still Standing'

Elton John performs "I'm Still Standing" | One World: Together At Home

The Rolling Stones - 'You Can't Always Get What You Want'

The Rolling Stones perform "You Can't Always Get What You Want" | | One World: Together At Home

John Legend and Sam Smith - 'Stand by Me'

John Legend & Sam Smith perform "Stand By Me" | One World: Together At Home

Michael Bublé - 'God Only Knows'

Michael Bublé - God Only Knows (Live for Global Citizen One World: Together at Home)

Annie Lennox - 'I Saved the World Today'

Annie Lennox performs "I Save the World Today" | One World: Together At Home

Lady Gaga, Celine Dion, John Legend, Andrea Bocelli and Lang Lang - 'The Prayer'

Celine Dion, Andrea Bocelli, Lady Gaga, Lang Lang, John Legend perform "The Prayer" | OW:TAH

Tom Jones - 'Glory of Love'

Tom Jones - Glory of Love (One World: Together At Home)

Lady Gaga - 'Smile'

Lady Gaga performs "Smile" | One World: Together At Home

Sheryl Crow - 'Everyday is a Winding Road'

Sheryl Crow performs "Everyday is a Winding Road" | One World: Together At Home

Annie Lennox and Lola Lennox - 'There Must be an Angel'

Annie & Lola Lennox perform "There Must Be An Angel" | One World: Together At Home

Adam Lambert - 'Superpower'

Adam Lambert performs "Superpower" | One World: Together At Home

Keith Urban - 'Higher Love'

Keith Urban performs "Higher Love" | One World: Together at Home

Lady Antebellum - 'What I'm Leaving For'

Lady Antebellum Perform "What I'm Leaving For" | One World: Together At Home

Kacey Musgraves - 'Rainbow'

Kacey Musgraves performs "Rainbow" | One World: Together at Home