Sir Paul McCartney says it's a "huge honour" to get major prize at Buckingham Palace
4 May 2018, 14:35 | Updated: 4 May 2018, 15:28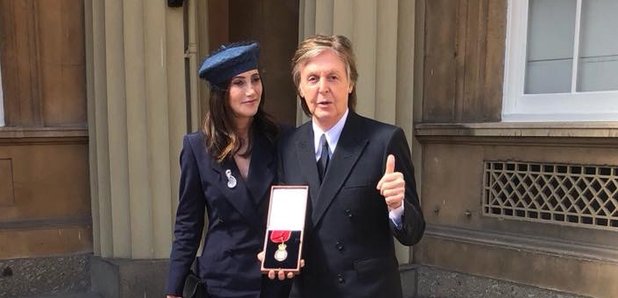 Sir Paul McCartney has spoken of his pride at being made a Companion of Honour today (May 4).
The Beatles legend received the honour at an investiture ceremony at Buckingham Palace on Friday.
Speaking about becoming a member of the order, which only has a maximum of 65 members at any time, he called the ceremony "a huge honour".
In a statement, he said: "I see this as a huge honour for me and my family and I think of how proud my Liverpool mum and dad would have been to see this."
Sir Paul was joined at Buckingham Palace by his wife, Nancy.
The 75-year-old rock icon was honoured for services to music, 20 years after he was first knighted by the Queen.
While members of the Order of the Companions of Honour hold no special title, the people who are inducted are entitled to use 'CH' after their name.
Other Companions of Honour include JK Rowling, Dame Maggie Smith and Sir David Attenborough.
Congratulations, Macca!