Shakespears Sister announce reunion 26 years after feud, including new music and tour
7 May 2019, 12:58 | Updated: 7 May 2019, 13:30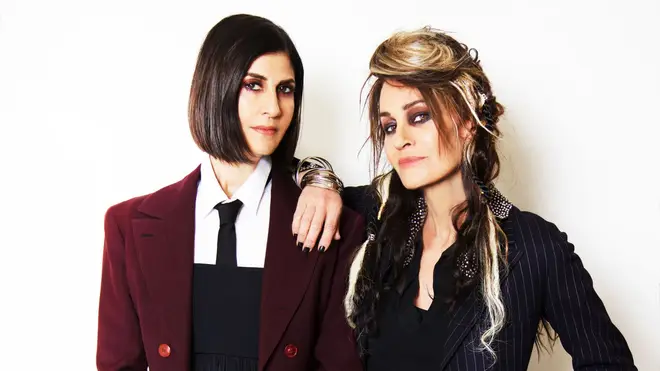 Siobhan Fahey and Marcella Detroit are back together after nearly 30 years away.
Shakespears Sister have announced their long-awaited comeback, reuniting their original line-up after 26 years apart.
Siobhan Fahey and Marcella Detroit have confirmed that they are finally reforming the duo, who are best known for their classic 1991 number one 'Stay'.
They are not only back with a reunion tour, but brand new music to be released soon.
"I love our new music," Fahey told Sky News. "I'm really, really excited about it.
"Live, we rock. It's quite ballsy, it's got a swagger to it."
The duo were known to have fallen out when they parted ways in the 1990s. "But there is no longer [any bitterness]," Fahey explained.
"It's got to be fun," she added. "It's got to be really joyful and pleasurable and so I don't think either of us wanted to entertain the idea [of reforming] while there was any chance of there being any bad feeling."
Shakespears Sister was formed by Fahey in 1988, soon after quitting Bananarama. Detroit joined her during the making of the debut album, Sacred Heart.
The band sold over a million albums, won a Brit Award for best video for 'Stay' and an Ivor Novello award for outstanding collection of songs.
They also once headlined the Pyramid Stage at Glastonbury, and supported Prince, at his personal request.
After their sudden split in 1993, they did not speak at all until finally meeting again in 2018.
Shakespear's Sister - Stay (Official Video)
"We talked things through," Detroit said. "There was miscommunication, the people who were around us at the time, guiding us, feeding us little bits of information and us not being able to really talk about things and clarify things.
"There were misconceptions, misunderstandings, really. And so it was good to talk. To cleanse."
Detroit added that she was "shocked" when Fahey reached out to her, and that it had "always bothered me, you know, knowing that there was this angst and unresolved business between us".
Shakespears Sister will release their first new single, 'All The Queen's Horses', on May 15. This will then be followed by a special compilation, Singles Party, in July.
They will then embark on a Shakespears Sister Ride Again UK tour, including a show at the London Palladium, in October and November.