Stranger Things season 3 soundtrack: What songs appear in the Netflix series?
5 July 2019, 14:21 | Updated: 5 July 2019, 14:26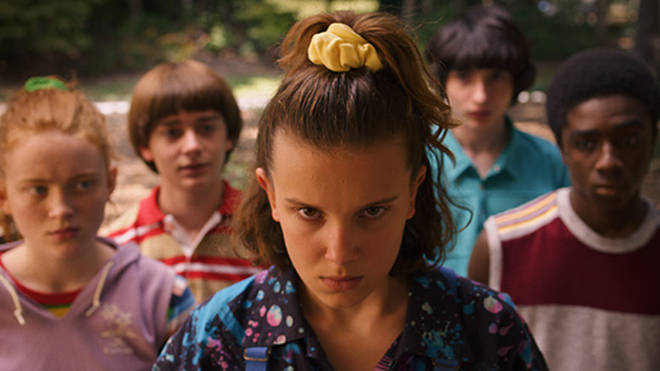 Stranger Things season 3 is finally here, and we're loving all the latest thrills and freights in 1980s Indiana.
One of the biggest highlights for each new season of the Netflix sci-fi series is its awesome soundtrack of haunting synths and classic '80s bangers.
But what appears in season 3?
Stranger Things season 3 soundtrack: What classic '80s songs appear?

Picture: Netflix/Sony

Like previous seasons, there will also be a soundtrack of classic tracks, titled Stranger Things: Soundtrack from the Netflix Original Series, Season 3.

It will feature 15 "classic tracks" and the debut of an original cast recording.

The soundtrack will be available on July 5 in digital and CD formats, and then there will be special 12″ vinyl editions and a bonus 7″ single.

You can pre-order the soundtrack here.

The episode-by-episode breakdown is:

Episode 1:

Corey Hart - 'Never Surrender'
Keith Mansfield - 'Funky Fanfare'
John Harrison - 'Day of the Dead'
Gentlemen Afterdark - 'Open the Door'
Stray Cats - 'Rock this Town'
The Cars - 'Moving in Stereo'
Huey Lewis & the News - 'Workin' for a Livin''
Patsy Cline - 'She's Got You'
Foreigner - 'Hot Blooded'
REO Speedwagon - 'Can't Fight This Feeling'
Cutting Crew - 'I Just Died in Your Arms Tonight'

Episode 2:

The Go Go's - 'Get Up and Go'
Black Market Baby - 'Gunpoint Affection'
Altitude Music - 'Matter of Love'
Weird Al Yankovic - 'My Bologna'
Madonna - 'Material Girl'
Foreigner - 'Cold as Ice'
Hello Peril - 'Tennis Ball'
Ray Charles - 'America the Beautiful'

Episode 3:

Madonna - 'Angel'
Life by Night - 'Phone to Phone'
Teena Marie - 'Lovergirl'
Trevor Jones - 'The Pod Dance'
Smart Remarks - 'All Your Reasons Why'
Howard Jones - 'Things Can Only Get Better'
Al Hazan - 'Is it a Sin'
Don McLean - 'American Pie'

Episode 4:

Vera Lynn - 'We'll Meet Again'

Episode 5:

Loverboy - 'Strike Zone'
Hello Peril - 'Tennis Ball'

Episode 6:

The Pointer Sisters - 'Neutron Dance'
Possum River - 'Stand Up and Meet Your Brother'
Philip Glass - 'The Grid'
Philip Glass - 'Satyagraha: Act II: Confrontation and Rescue'
Hello Peril - 'Tennis Ball'

Episode 7:

John Mellencamp - Rock in the USA

Episode 8:

Yello - 'Goldrush'
Jackie Wilson - 'Higher and Higher'
The Never Ending Story Theme
Peter Gabriel - 'Heroes'

Stranger Things season 3 score soundtrack: When is it released?

Composers Kyle Dixon and Michael Stein are back for season 3, and have released the tracklisting, which is released digitally on June 28.

Physical versions including vinyl will then be released at a later date.

The musicians said: "With the season three soundtrack, we've made an album that doesn't feel like a 'score' necessarily, but one that feels more like a stand-alone record than a collection of brief cues.

"We've incorporated the main narrative elements of the series and stayed true to the original sound while at the same time expanding on our musical palette – we often pushed it to the limit.

"We've really made an effort to curate this album to showcase the moments we think are really special."

The tracklisting is:

'Boys And Girls'
'I Like Presents Too'
'Starcourt'
'Blank Makes You Crazy'
'I Need You To Trust Me'
'You're A Fighter'
'The Ceiling Is Beautiful'
'The First I Love You'
'Rats'
'What Did You Do To Him?'
'Find The Source'
'The Silver Cat Feeds'
'Heather's'
'William'
'Destroying The Castle'
'In The Void'
'Tammy'
'Mirkwood'
'Portal Drill'
'Happy Screams'
'Ruins'
'It's Just Ice'
'The Door Is Opening'
'Planck's Constant'
'She's Gone Home'
'Seven Feet'
'The Week Is Long'
'Sauna Test'
'Six Facts'
'The Trees Are Moving'
'On Their Tracks'
'Not Chinese Food'
'Blueprints'
'Land Deeds'
'Not Kids Anymore'
'Code Red'
'Feel Safe'
'He's Here'
'Scoops Troop'
'We Don't Understand Each Other'
'Aftermath'

Stranger Things season 3 trailer music: What are they called?

In the full length trailer - released on June 21 - two synthy tracks from the score are included.

You can hear the tracks 'Starcourt' and 'The Ceiling Is Beautiful' below:

In the first teaser trailer, we hear bursts of Motley Crue's 'Home Sweet Home' and a remix of The Who's 'Baba O'Riley' aka 'Teenage Wasteland':