The best April Fool's jokes for 2019: Did they fool you?
1 April 2019, 14:39 | Updated: 1 April 2019, 14:55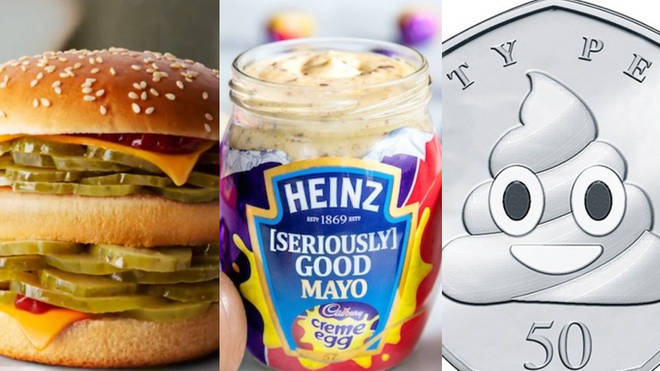 April Fool's has struck once again, with many websites and companies trying to catch everyone out, as is tradition.
Every year, many of us forget that April 1 has come around, and don't realise certain stories are actually cheeky fiction.
But how many did you spot? And did any fool you? Here's a roundup of the best April Fool's jokes for 2019:
Toto's 'Africa' is now being made into a movie

Yes, we got in on the act this year!

We're afraid to inform you that a new movie version of Toto's classic tune 'Africa' is NOT being made into a film.

However, we're pretty certain this is likely to happen in the near future, what with 'Last Christmas' actually happening.

Actually real: Toto's 'Africa' to be played on an infinite loop in an African desert

Marmite Pot Noodles

We were excited with the very-real Marmite Peanut Butter last week, but sadly (for some), the Marmite Pot Noodle is a thing of fantasy (for now).

Mayonnaise Creme Egg sauce

Heinz Creme Egg Mayo.

Picture: Heinz

Even though this is fake, we still would be intrigued to try some!

Actually real: You can earn £45 an hour hunting for white Creme Eggs

Free beer is being prescribed on the NHS

Picture: Getty

The Daily Star announced that free beer will be available on the NHS, with pints of stouts provided to patients who are able to tell their GP they are suffering from tiredness.

The report said that repeat prescriptions would need to be signed off by medics every week to prevent "abuse of the system".

Conservative MP 'Michael Fabricant' said: "They used to say 'Guinness is Good for You'. I'm told that nowadays the NHS will not supply it in a pint glass but as an intravenous drip."

The McDonald's McPickle burger

This actually looks amazing to us folk who actually love the pickles!

McDonald's wrote: "Pickle lovers, it's the news you've all been waiting for. We're super stoked to announce the launch of our brand new McPickle Burger.

"It's time to tuck into juicy, flavoursome pickles layered between melted cheese, ketchup sauce and toasted sesame seed buns.

"It's sure to be a treat for all your senses."

Spreadable Yorkshire Tea

If only!

Kit Kat's 'take a break' tea

Ever wanted to drink your Kit Kat bar?

The chocolate company said you can now get your tea in three different blends: four fingers, two fingers, and chunky.

Sainsbury's 'Trolley Trainer'

Want to know how many calories you burned on your grocery shop? Then you'd love Sainsbury's new trolley trainers, if only they were real.

The supermarket claimed to become 'Gainsbury's', offering resistance levels on the trolleys, along with a heart rate monitor and calorie count setting.

Royal Mint issues a new 50p featuring the poo emoji

Picture: The Sun

The Sun reported that Royal Mint had unveiled its latest 50p collection - this time all based on emojis including the infamous poop.

The smiling brown emoji is one of six themed pieces, with others including a peach, a heart, a flame, an aubergine and a crying with laughter smiley.

Coin expert 'Penny Silver' told the newspaper: "What with Brexit, Royal Mint must have decided everyone could use some light relief.

"Emojis are a great way to communicate and express ourselves, so it makes sense to mark this with a coin collection."

The UK will leave Eurovision after Brexit

Picture: Getty

The Daily Express writer 'Flora Olip' said that Britain's involvement in the Eurovision Song Contest was in doubt due to Brexit.

'Vaya Mentira', chief executive of 'LIES', said: "It has with a heavy heart that we have decided Britain should no longer compete in Eurovision."

The Royal Albert Hall will rotate 180°

The Royal Albert Hall. Picture: Getty

The Royal Albert Hall 'announced' details of a major building project, the first of which involves the concert hall being rotated 180°.

The rotation was to be part of plans to make the venue more accessible in years to come.

The plans were apparently because of issues such as discolouration, erosion, fading and pollen damage ruining plague different sides of the building due to exposure to main roads, wind, sun and Hyde Park.

TV remotes for pets

Roku 'announced' a remote control designed to make it easier for pets to control the family TV.

Sadly, the pooch-friendly features such as bark-to-play and bark-to-mute controls are not real. Maybe one day?