This man has just eaten his 30,000th Big Mac
8 May 2018, 16:27 | Updated: 12 June 2018, 16:31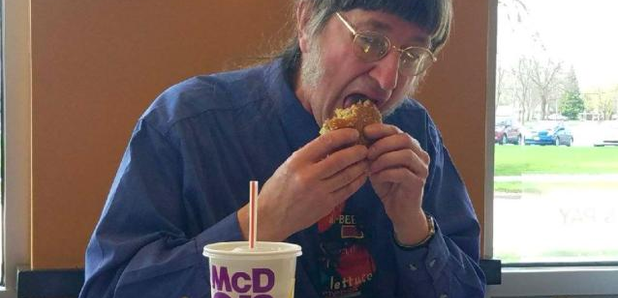 Err, congratulations?
If you're a McDonald's fan, then you'll know that ordering a Big Mac every now and then is a proper treat.
Well, imagine eating one FOR INFINITY.
Don Gorske has essentially done that, and he is being celebrated in the States for finishing off his 30,000th beefy burger.
He completed the feat at the same McDonald's where he ate his first back in 1972.
"This one is a biggie for me, something I have been looking forward to," Don said.
Don has become something of a local hero in his town and he appeared in the McDonald's documentary Supersize Me.
It's one for the history books. He's done it. Local folk hero Don Gorske has eaten his 30,000th Big Mac. Let the record show it took place 3:30pm at the Fond du Lac @McDonalds. He cautions this may be his last milestone, projecting 40,000 would come in 2032. #SuperSizeMe #WISN12 pic.twitter.com/4rJ5lTCYui

— Nick Bohr (@NickBohrWISN) May 4, 2018
He is also a huge McDonald's fan in general, and has preserved and categorised thousands of objects related to his Big Mac obsession. However, in June 1990, a tornado destroyed a portion of his house, and 7,000 Styrofoam cartons were damaged.
He says that he could eat his 40,000th Big Mac in 2032, when he'll be 78. The longest he went without eating a Big Mac was eight days. He promised his mother not to eat a Big Mac on the day she died, back in 1988.
Don Gorske is my hometown hero. He has been eating Big Macs daily since they were introduced 50 years ago. pic.twitter.com/rv8SdBKrth

— Fred Boness (@FredBoness) May 6, 2018
Don also says that at his last medical check-up, he had low cholesterol and "perfect" blood pressure. In 2006, he finished the San Diego marathon carrying his 21,387th Big Mac.
Don Gorske: A true inspiration.