Angry customer returns their cheese roll for a hilarious reason
22 January 2018, 17:01 | Updated: 22 January 2018, 17:13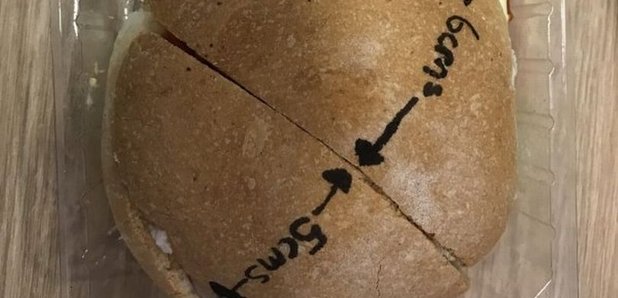 We've probably all bought a dodgy sandwich from a local café from time to time, but it would take a lot for us to kick up a fuss. Us Brits don't like making a scene if we can help it.
Well, that notion totally went out the window for a customer at a social club in Australia, after they returned a cheese roll because it wasn't cut exactly in half.
After dismissing the complaint at first, staff decided to measure the controversial sandwich and discovered that the irritated customer was indeed correct.
One half was a centimetre wider than the other. Shocking!
Peter Norris, chief executive officer at Corowa RSL club in New South Wales, Australia, shared a photo of the meal on LinkedIn.
He said: "In clubland we do see some strange customer complaints. This roll was returned today because it was not cut in 'half' as requested by the customer.
"While it was quickly dismissed as funny, further investigation revealed the customer was in fact correct and we were a full cm off the perfect cut! Only in Clubs."
So what do you reckon, was the customer right to be angry or are they having a laugh?